New EV82 Liquid Analyzer Features Precision Optical Technology
Press Release Summary: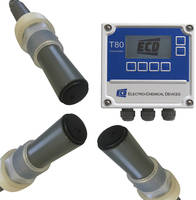 Detects the presence of chlorophyll and algae in water samples
Includes built-in communications that send data to a transmitter or controller
Operates at depths of up to 33 ft. (10 m) and temperature range from 32 to 122 °F
---
Original Press Release:
New EV82 Liquid Analyzer with Fluorescence Sensing Detects Chlorophyll & Algae to Assure Water Quality
Municipal Drinking Water, Desalination Plants, Aquaculture and More
Anaheim, CA—February 22, 2021—Designed with state-of-the-art optical fluorescence technology and advanced communications capabilities, the new highly intelligent and accurate Model EV82 Liquid Analyzer from Electro Chemical Devices detects the presence of chlorophyll and algae in water samples to help water engineers ensure proper disinfection and effective treatment of ground and surface water for municipal and industrial plant applications.
Chlorophyll is bound within the living cells of algae, phytoplankton, and other plant matter found in water. Chlorophyll is a commonly used measure of water quality and concentrations are an indicator of algae abundance and productivity in aquatic environments. Higher concentrations typically indicate poor water quality, usually when high algal production is maintained due to high nutrient concentrations.
ECD's Model EV82 Liquid Analyzer features precision optical technology to measure the fluorescence intensity of chlorophyll or algae, which is typically directly proportional to its concentration in water. With measurements available in either the blue or red spectrum, this powerful sensor is combined with ECD's highly intelligent digital pre-calibrated sensor design, which includes built-in communications that send analyzer data to a transmitter or controller with a local display and/or to programmable logic controllers (PLC's) or a plant's distributed control system (DCS).
The presence of chlorophyll or algae in ground water or surface water from streams, rivers, lakes or holding ponds indicates the potential presence of contaminants. In addition to algae, such contaminants could indicate water-borne pathogens, which must be treated and eliminated prior to safe water use. The Model EV82 Analyzer is suitable for use in pre- and post-treatment applications, which help ensure the disinfectant method has been effective in eliminating the presence of organic matter.
The plug-n-play Model EV82 Analyzer is ready-to-go right out of the box with its optical fluorescence standard sensor pre-calibrated at the factory to detect Chlorophyll (algae) ranging from 0 to 500 ug/L; custom ranges are available. Just install the sensor and plug-in the analyzer's T80 Transmitter or LQ800 Multi-Channel Controller to begin measurement. The highly intelligent sensor automatically configures itself with the transmitter or controller.
The minimum chlorophyll sensing ranges available are a choice of either 0.03 ug/L (blue excitation method) or 0.3 ug/L (red excitation method). The Model EV82's rugged, submersible IP-68 rated standard sensor operates at depths of up to 33 feet (10 meters) for maximum flexibility, with greater depths available.
The Model EV82's easy-to-install sensor features a rugged, secure mounting that is accomplished with the provided pipe thread for a permanent standpipe installation. No special tools or extensive training are required. The sensor operates over a wide temperature range from 32 to 122 °F (0 to 50 °C) for application versatility.
The T80 Transmitter and the LQ800 Multi-Channel Controller are both simple to install. They feature built-in power supplies that operate over 24 VDC power. Just plug them in and they're ready to go. Outputs are via Modbus RTU RS485 digital communications, and they also include LCD displays with highly intuitive menus that will appeal to busy technicians.
Maintenance requirements are minimized by the design of the Model EV82 Analyzer's thoughtful sensor design, which features a smooth parallel optical sensing surface. This design reduces potential algae contamination without the need for extra cleaning maintenance by busy plant technicians. Ease of installation and low maintenance requirements reduce this analyzer's total installed and lifecycle costs.
About ECD Analyzers
ECD Analyzers is a subsidiary of Electro-Chemical Devices, Inc., which is a manufacturer of liquid analytical process instrumentation. Founded in 1977, ECD has been in business for over 40 years and has built its industry leading reputation by its commitment to customers through this basic approach: Provide quality products, develop technical innovations and provide responsive, knowledgeable service.
ECD Company Contact: Eric Kim ● ECD Address: 1500 N. Kellogg Dr., Anaheim, CA 92807 USA
Web: www.ecdi.com ● Email: [email protected] ● Tel: 800-729-1333 Tel: 714-695-0051 ● Fax: 714-695-0057
Editor's Contact: Randy Brown ● Tel: 909-223-6700 ● Email [email protected]