New Euro/Global to John Deere 600/700 Adapter from Worksaver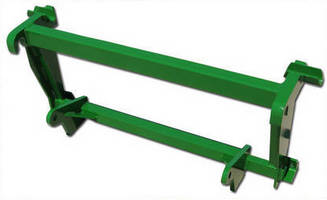 Worksaver, Inc. offers a new adapter which allows Euro/Global loaders to interface with attachments designed for John Deere 600/700 series quick attach system. This adapter is engineered to prepare loaders to accept John Deere 600/700 buckets and attachments. The Euro/Global interface is featured on one side while the John Deere 600/700 Series interface is on the other. The adapter features an all welded design and maximum capacity of 5,000 lbs.

For more information, contact Worksaver, Inc., P.O. Box 100, Litchfield, IL 62056-0100. Phone: 217-324-5973. Fax: 217-234-3356. Website: www.worksaver.com/product/bale-options.html. E-mail: sales@worksaver.com.

More from Thermal & Heating Equipment