New EtherHaul 614TX Radio Can Be Operated in the Upper Regions of 60GHz Band
Press Release Summary: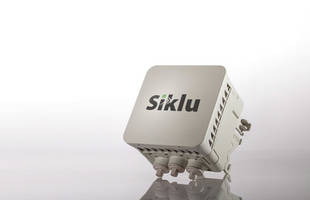 The EtherHaul™ 614TX Radio is offered in 16.7 x 16.7 x 10.2 cm dimensions with integrated antenna and is suitable for high connectivity for surveillance, public Wi-Fi backhaul and municipal networks. The unit is supported by SmartHaul™ WiNDE application network design tool. The radio reaches 50% further operating in the 64 to 71 GHz band when compared to links used in 57 to 64GHz section. It allows user to tune to a wider choice of frequencies.
---
Original Press Release:
Siklu Announces the Extended Range EtherHaul™ 614TX
New regulations in the US and UK open new license-exempt frequencies of the popular EH-600 Hundred Series Radios, extending the range by 50%
FORT LEE, New Jersey, Aug. 9, 2018 /PRNewswire/ -- Siklu, the global market leader in mmWave wireless solutions, is introducing an extended frequency range model of its industry-leading EH-600 PtP 60GHz series: the EH-614TX.
This year both OFCOM in the UK and the FCC in the US have extended the license-exempt V-band spectrum up to 71GHz, for a total of 14Ghz. Siklu's EtherHaul™ 614TX is designed to take advantage of this expansion and operate over the entire 14Ghz band with a single SKU.
Operating in the upper regions of the 60GHz band allows longer distances, as the oxygen absorption effect centered at 62GHz has minimal impact. The EH-614TX will typically reach 50% further operating in the 64 to 71 GHz band, when compared to links deployed in the 57 to 64GHz section. The frequency expansion also allows EH-614TX to tune to a wider choice of frequencies, providing additional spectrum for dense deployments.
This extension of the frequency range for the EH-614TX, and hence extended range, comes in the exact same small form factor with integrated antenna as the widely deployed EH-600 series (16.7x 16.7x 10.2cm, 6.6x 6.6x 4.0in). This allows street level deployments on poles and other fixtures delivering reliable high-speed connectivity for Smart Cities, including security surveillance, Public Wi-Fi backhaul, and municipal networks. 
The Etherhaul™ Hundred Series product line is also used extensively in the 5G Gigabit to the Home (GTTH) application as a medium-capacity backhaul. Carriers such as C Spire have designed their 5G GTTH network based on the EH-600 product line as a backhaul solution. With the additional range and more frequency bands, dense 5G GTTH and Smart City networks become even easier. The EH-614TX is also supported by Siklu's SmartHaul™ WiNDE application, an automated network design tool for PTP and PTMP Siklu radios.
"The addition of the EH-614TX product, extends Siklu's lead in mmWave technology even further with the broadest and most capable portfolio on the market," said Eyal Assa, Siklu's CEO. "Extending the reach of the very popular EH-600 series by 50% and delivering one product for the entire frequency band continues Siklu's leadership in performance and ease of use."
About Siklu
Siklu delivers multi-gigabit wireless fiber connectivity in urban, suburban, and rural areas. Operating in the mmWave bands, Siklu's wireless solutions are used by leading service providers and system integrators to provide 5G Gigabit Wireless Access services. In addition, Siklu solutions are ideal for Smart City projects requiring extra capacity such as video security, WiFi backhaul, and municipal network connectivity all over one network. Thousands of SIKLU carrier-grade systems are delivering interference-free performance worldwide. Easily installed on street-fixtures or rooftops, these radios have been proven to be the ideal solution for networks requiring fast and simple deployment of secure, wireless fiber. www.siklu.com.
Press Contacts
Shiri Butnaru
Marketing Manager, Siklu
shiri.b@siklu.com 
Dave Sumi
VP Marketing, Siklu
dave.s@siklu.com
More from Software