New EPD-3133 E-Paper Information Display Comes with 180-Degree Viewing Angle
Press Release Summary: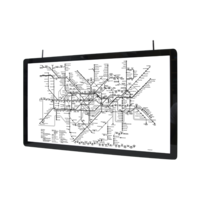 Powered by Intel Celeron Apollo Lake CPU that supports black and white, and 16-level grayscale
Features low power consumption, bistability, and paper-like non-glowing quality
Offers open-frame embedded design and can be integrated into any public installation
---
Original Press Release:
Avalue Embedded E-Paper Information Display Solution EPD-3133
Convenient, real-time updates enhance green environment
Aug 4th, 2020, Taipei, Taiwan – Avalue Technology Inc. (TAIEX: 3479-TW), a global industrial PC solution provider and an associate member of the Intel® Internet of Things Solutions Alliance. Avalue Technology, a professional embedded industrial computer manufacturer, endeavoring to provide a complete range of embedded solutions has launched the EPD-3133 series of electronic paper display (EPD). Fully flat EPD-3133 features low power consumption, bistability, and paper-like non-glowing quality. It has a 180-degree viewing angle and highly readable even under strong light. In comparison to the traditional LCD, EPD is a new alternative in display interface for IoT and smart city applications. In step with 5G and AI developments worldwide, and trends toward smart living, digital entertainment and health management, panel applications have become more diverse. Besides its fully flat feature, EPD-3133 also offers open-frame embedded design which makes it easy to integrate into any public installation, such as public information display, smart bus stop sign, real-time public transport information system and indoor electronic bulletin.
In terms of content management, Avalue provides link up between frontend and backend APIs and sample codes. Users may develop programs, do editing, organize content and publish processes in accordance with individual requirements and user experience, fully experiencing its flexibility and changes. To further optimize content management, users may choose either Win 10 or Android 8.1. EPD-3133 electronic paper information display solution makes it easy for users to link up frontend and backend, and update information in real time, e.g. real-time display of bus schedule, bus routes and weather forecast. When combined with wireless transmission, electronic paper used in office or logistics scenarios can also significantly replace traditional single-use paper and labels.
Avalue 31-inch EPD-3133 with Intel Celeron Apollo Lake CPU supports black and white, and 16-level grayscale, and has the advantages of electronic paper, such as low power consumption, continuous display without power consumption and shatter-resistance. In particular, its low power consumption and non-heat emitting characteristic make it highly suitable for information pushing in public venues. The electronic paper's ultra-low power consumption is due to its bistability; it holds an image even when power supply is removed or unplugged, and only consumes power when the picture changes. Electronic paper is also the best solution for information pushing. It is lightweight, thin and easy to install, and Avalue EPD-3133's open-frame design allows it to be embedded in various scenarios, and many EPDs can be connected to form an ultra large digital display. Its functions can be expanded at any time with options for touchscreen and front lighting module. Furthermore, EPD-3133 supports LAN/WiFi/LTE, provides real-time information, and delivers warnings and notifications, and public services. With EPD-3133, businesses and consumers not only satisfy their requirements but also get to join the new smart green experience.
Visit www.avalue.com.tw for more information on Avalue products, or contact sales@avalue.com.tw to talk to our sales team.
About Avalue Technology
Avalue Technology (TAIEX: 3479-TW) is a professional industrial computer manufacturing company, who is dedicated to developing the x86 and RISC architecture products, including Industrial & Embedded Motherboard, Industrial Computer, Panel PC, System On Module, POS Terminal, Tablet, Software and various IOT ready products. Having expanded, Avalue offers its expertise on PCB/ Assembly/ BIOS version control and all types of after-sales services. An ISO 9001:2008, ISO 13485:2003, ISO 14001:2004 and OHSAS 18001:2007 certified company; Avalue offers assurance to customers in every aspect of business. With headquarter located in Taiwan, Avalue has global subsidiaries, including offices in Shanghai, New Jersey, California and Tokyo. In addition, Avalue Technology operates an extensive distribution network to accommodate and serve customers all around the world.
Media Contact:
Email: pr@avalue.com.tw
More from Electronic Components & Devices