New Energy-Efficient Motor is IP66 Rated
Press Release Summary: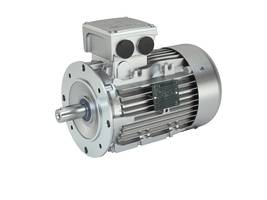 Available in 20 models and provides power range of 0.16 to 60 HP
Comes in 4-pole configuration and suits IEC frame sizes from 63 to 225
Includes quick connectors, single or double protection canopies, space heater, spring applied brake, and forced ventilation
---
Original Press Release:
NORD Introduces New Energy-Efficient Motor with Power Range from 0.16 to 60 HP
New UNIVERSAL motor extends portfolio of asynchronous electric motors 
NORD Gear Corporation, a leader in industrial gear reducers, motors, and variable frequency drives, has announced the addition of a new energy-efficient electric motor to its line of asynchronous motors. The threephase NORD UNIVERSAL motor is available in 20 models and provides a power range of 0.16 to 60 HP.
Available in 4-pole configuration, the robust motors suit IEC frame sizes from 63 to 225. They are available in B3 foot, B5 flange, or B14 face mounting and can be supplied as NEMA C-face through 30 HP and NEMA foot mount. The motor also can be directly mounted to NORD gearboxes to provide a compact and more efficient drive solution. 
As a standard, the motor is protected to IP55, is Totally Enclosed Fan Cooled TEFC, and Class F Insulation rated. The motor is also certified to Bureau Veritas for marine and offshore applications. The 3-phase NORD UNIVERSAL motor can be used with four standard voltage supplies noted on the motor nameplate: 380V 50Hz, 400V 50Hz, 415V 50Hz, and 460V 60Hz as well as at 440V 60Hz and 480V 60Hz.
Options for the NORD UNIVERSAL motor include quick connectors, single or double protection canopies, space heater, spring applied brake, and forced ventilation. If required, the motor enclosures can also be provided in IP66 rating, which means they are dust tight and protected against heavy seas or powerful jets of water.
These motors are manufactured in Europe and carry CE, UL, CSA, CCC, ISI and EAC certifications to serve all major markets in the world.
Learn more about NORD UNIVERSAL motors.
About NORD DRIVESYSTEMS®
With more than 4,000 employees, NORD DRIVESYSTEMS has been developing, producing and selling drive technology for more than 50 years, and is one of the global leaders of full-service providers in the industry. In addition to standard drives, NORD delivers application-specific concepts and solutions for special requirements such as energy-saving drives or explosion-protected systems. In financial year 2017, annual sales amounted to $781 million. NORD now has subsidiaries and sales partners in 98 countries worldwide. The dense sales and service network guarantees optimal availability, enabling short delivery times and customer-oriented service. NORD produces a very diverse range of drives for torques from 88 to more than 2.2 million lb-in, provides electric motors in the power range of 0.16 to 1,341 HP, and manufactures frequency inverters with the required power electronics of up to 215 HP. Inverter solutions are available for conventional control cabinet installations as well as for decentralized, fully-integrated drive units.
NORD Gear | PO Box 367 | 800 Nord Dr. | Waunakee, WI 53597
Laurie ANDRES
Phone: 608-849-7300 x 2957
Laurie.Andres@nord.com