New Embedded Edge Server Technologies Designed for Extended Temperature Ranges
Press Release Summary: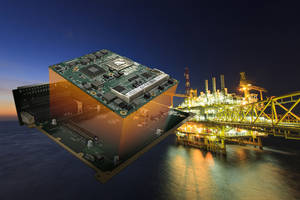 Available with conformal coating to protect against effects of salt water or condensation caused by large temperature fluctuations
Designed for digitization of upstream and midstream oil and gas industry
Offers comprehensive server class RAS features that enable OEMs to reliably manage thousands of devices remotely
---
Original Press Release:
A New Rugged Class of Data Processing Engines for the Digitization of the Oil and Gas Industry
San Diego, CA, 22 August 2019 congatec – a leading vendor of standardized and customized embedded computer boards and modules – introduces a new rugged class of embedded edge server technologies designed for the digitization of the upstream and midstream oil and gas industry. Both sectors are characterized by distributed assets and infrastructures in harsh environments and therefore require ultra-robust embedded platforms for the digital transformation challenge that offers a huge potential for cost savings.
."The International Energy Agency estimates that digitization can reduce production costs in the oil and gas sector by up to 20 percent. According to auditing and consulting firm PWC, there is great potential for savings through more efficient maintenance and better operation of assets. There is also further potential for savings in the supply chain, through the use of artificial intelligence and integrated platforms that connect organizations with external partners," explains Dan Demers, Director Sales & Marketing at congatec Americas.
"By digitizing these processes, companies in the upstream and midstream sector can potentially save up to $1 trillion in capital and operating costs. Realizing this potential requires extremely robust embedded edge server technologies such as those offered by congatec. Our IoT and solution-ready system platforms for solution providers, system integrators and end users are based on these technologies," said Martin Frederiksen, oil and gas computing expert and Managing Director of Diamond Point.
In order to meet the requirements of the upstream and midstream oil and gas industry, the new embedded edge computing platforms are designed for extended temperature ranges, with optional conformal coating to protect against the effects of salt water or condensation caused by large temperature fluctuations. In addition, they offer comprehensive server class RAS (reliability, availability, serviceability) features that enable OEMs to reliably manage thousands of devices remotely. As multicore designs with currently up to 6 cores and a particularly low 25W TDP, they are suitable for completely fanless and therefore maintenance-free 24/7 operation in hermetically sealed housings with the highest IP protection classes. Virtual machines based on RTS hypervisor technologies allow optimal utilization of existing computing resources by partitioning the various tasks – including local real-time control requirements as well as over Tactile Internet. Another benefit of this virtualization option is the fact that these new platforms are also perfectly tailored to build cost efficient universal Customer Premises Equipment (uCPE). Such open standard hardware equipment is characterized by hosting telecom network functions at the customers edge IT including Software Defined Networks (SDN) and Network Functions Virtualization (NFV).
The new, ultra-robust embedded edge server platforms for the energy sector will also be presented for the first time at SPE Offshore Europe in Hall 1, Stand 1AA62.
About congatec
congatec is a leading supplier of industrial computer modules using the standard form factors COM Express, Qseven and SMARC as well as single board computers and customizing services. congatec's products can be used in a variety of industries and applications, such as industrial automation, medical, entertainment, transportation, telecommunication, test & measurement and point-of-sale. Core knowledge and technical know-how includes unique extended BIOS features as well as comprehensive driver and board support packages. Following the design-in phase, customers are given support via extensive product lifecycle management. The company's products are manufactured by specialist service providers in accordance with modern quality standards. Headquartered in Deggendorf, Germany, congatec currently has entities in USA, Taiwan, China, Japan and Australia as well as United Kingdom, France, and the Czech Republic. More information is available on our website at www.congatec.com or via Facebook, Twitter and YouTube.
Reader Enquiries:
congatec
Dan Demers
Phone: 858-457-2600
Press Contact:
congatec
Janene Rae
Phone: 858-457-2600