New Electromechanical Kit Simplifies Product Selection, Configuration and Commissioning
Press Release Summary: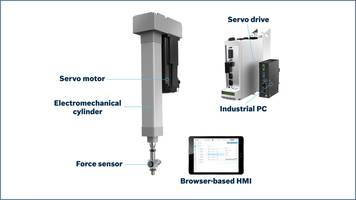 Designed for pressing and joining processes in the low force range of two to 30 kN
Consists of electromechanical cylinder, power sensor, servomotor, drive controller, industrial PC and browser-based HMI software
Ideal for press-fitting bearings in housings, crimping cables and hoses and inserting,  forming processes, bending, embossing and deep drawing in the plastics industry
---
Original Press Release:
Plug & Produce with Bosch Rexroth's Electromechanical Kit for Easy Joining Applications
Faster setup with cost-effective complete package
Modular kit comprising mechanical and electrical components and software
Quick and easy product selection and configuration
Plug & Produce: time saved during commissioning
No programming knowledge required
All components from a single source
Bosch Rexroth's new, innovative Smart Press Kit is designed to meet future industrial requirements and provides a complete mechatronics package that is immediately ready for use across an extremely wide range of standardized pressing and joining applications. The modular kit, consisting of mechanical components, electrical components and software, simplifies product selection and configuration as well as commissioning. The Smart Press Kit can be connected via open interfaces and conveniently monitored on a tablet during operations. This maximizes transparency, reduces downtime and increases productivity.

This easy, fast and attractively priced solution is specially designed for pressing and joining processes in the low force range of two to 30 kN. The modular system consists of perfectly synchronized hardware and software components: an electromechanical cylinder and power sensor, servomotor, drive controller, industrial PC and browser-based HMI software based on HTML 5.

There are numerous potential areas of application for the new Smart Press Kit – it is ideal for applications where simplicity, fast commissioning and price are important criteria. These include press-fitting bearings in housings, crimping cables and hoses and inserting (for example, integration of magnets in lamination stacks). Furthermore, the Smart Press Kit is cost-effective at forming processes, such as bending, embossing and deep drawing in the plastics industry. The system is also suitable for measurement and test procedures as well as test stands across an extremely wide range of sectors. The Smart Press Kit is a versatile solution and can be used as a standalone or integrated into superior systems via field bus. As such, Bosch Rexroth is setting new cross-industry standards for easy pressing and joining applications.

Fast product selection and commissioning
Simply start by choosing the right Smart Press Kit size using Rexroth's LinSelect software tool. Then the final configuration process is carried out in the online configurator. CAD files can then be downloaded and the desired configuration can be ordered via the Rexroth e-shop. All components are delivered as one complete package.

The true highlights of the Smart Press Kit are the intuitive commissioning and process configuration, meaning programming knowledge is not required. Thanks to the integrated motion control, the preinstalled operating software, the auto-parameterization of the servo drive, the low number of interfaces and a wizard make fast commissioning possible. This saves up to 95% engineering time and can significantly reduce time to market.

Intuitive software – no programming knowledge required
Even during operation, the software is intuitive and can be used without programming knowledge. Due to the modern Web HMI, process configuration takes place via drag and drop. An easy graphical creation of evaluation and analysis elements is practically self-explanatory. During operations, the Smart Press Kit can then be conveniently monitored via a tablet. The visualization of status information and process results, including a live display of the force-displacement curve with subsequent analysis, storage and data export options, ensure maximum transparency. All current system parameters are always available at a glance: whether a status report, quality statistics or error messages. They appear as plain text in the software and make error handling simple. Other predictive maintenance functions and maintenance support are currently in the works. Thanks to all these functions, the Smart Press Kit reduces downtime and maximizes productivity. For more information or to order your Smart Press Kit today, visitwww.boschrexroth-us.com/smartpresskit.

About Bosch Rexroth:
As one of the world's leading suppliers of drive and control technologies, Bosch Rexroth ensures efficient, powerful and safe movement in machines and systems of any size. The company bundles global application experience in the market segments of Mobile Applications, Machinery Applications and Engineering, and Factory Automation. With its intelligent components, customized system solutions and services, Bosch Rexroth is creating the necessary environment for fully connected applications. Bosch Rexroth offers its customers hydraulics, electric drive and control technology, gear technology and linear motion and assembly technology, including software and interfaces to the Internet of Things. With locations in over 80 countries, more than 32,300 associates generated sales revenue of roughly 6.2 billion euros ($7.3 billion) in 2018. 

To learn more, please visit www.boschrexroth-us.com. 
About Bosch:
The Bosch Group is a leading global supplier of technology and services. It employs roughly 410,000 associates worldwide (as of December 31, 2018). According to preliminary figures, the company generated sales from operations of 77.9 billion euros ($92 billion) in 2018. Its operations are divided into four business sectors: Mobility Solutions, Industrial Technology, Consumer Goods, and Energy and Building Technology. As a leading IoT company, Bosch offers innovative solutions for smart homes, smart cities, connected mobility, and connected manufacturing. It uses its expertise in sensor technology, software, and services, as well as its own IoT cloud, to offer its customers connected, cross-domain solutions from a single source. The Bosch Group's strategic objective is to deliver innovations for a connected life. Bosch improves quality of life worldwide with products and services that are innovative and spark enthusiasm. In short, Bosch creates technology that is "Invented for life." The Bosch Group comprises Robert Bosch GmbH and its roughly 440 subsidiary and regional companies in 60 countries. Including sales and service partners, Bosch's global manufacturing, engineering, and sales network covers nearly every country in the world. The basis for the company's future growth is its innovative strength. At 125 locations across the globe, Bosch employs some 69,500 associates in research and development. 

Additional information is available online at www.bosch.com, www.iot.bosch.com, www.bosch-press.com,www.twitter.com/BoschPresse.
Media Contacts:
Godfrey
Todd Walter
Gina Masciantonio
40 N. Christian Street
Lancaster, PA 17602
Telephone (717) 393-3831
twalter@godfrey.com
gina@godfrey.com

Bosch Rexroth Corporation
Susan Strauss
2315 City Line Road
Bethlehem, PA 18017
Telephone (610) 694-8352
susan.strauss@boschrexroth-us.com