Intermediate Bulk Containers (IBC)
New Efficient and Easy to Clean Intermediate Bulk Container from Grayling Industries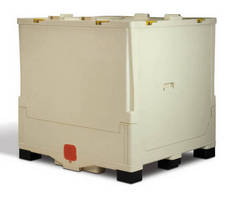 Grayling Industries, a leading manufacturer and distributor of intermediate bulk containers and liners, announces the addition of a new container to their product line.

Per Ben Greene, Marketing Manager for Grayling, "We feel that the Buckhorn container is a very robust and functional collapsible tote and will fit very well in our industrial packaging product offering."

The Buckhorn Caliber 315 reusable intermediate bulk container, manufactured using high pressure injection molding, is made from FDA approved materials. The container capacity is 315 gallons or 3,300 pounds. The smooth interior and exterior surfaces allow for easy cleaning and the collapsible design of the product minimizes storage space requirements and freight costs.

Kent Davis, National IBC Sales Manager for Buckhorn, offered, "The people at Grayling are IBC specialists and can effectively address customer needs with creative solutions in a timely manner. We are very pleased to welcome Grayling as a distributor of our IBC product line."

Buckhorn, Myers Industries, Inc. (NYSE: MYE) company, is a leading provider of reusable plastic packaging solutions, delivering superior innovation, selection and service to help customers improve supply chain performance and reduce material handling costs. Buckhorn products include Collapsible Bulk Boxes and Intermediate Bulk Containers; Hand-held Containers, Totes and Specialty Products; Distribution Pallets and Top Caps; Custom Dunnage; and Custom Products.

Grayling Industries is a North American manufacturer of specialized flexible film products for industrial applications. Markets served are industrial packaging and environmental safety. Primary products are intermediate bulk containers and liners and products for contamination control on asbestos abatement projects. Brands include; Guardian(TM) IBC container liners for liquid and dry applications, PaperIBC(TM) containers and Avail(TM) glovebags, Control(TM) chemicals, D-Con(TM) disposable showers and Durapax(TM) disposal Bags for asbestos abatement.

For more information on the Buckhorn intermediate bulk container and Grayling Industries, visit www.graylingindustries.com or call 800-635-1551 or 770-751-9095.


More from Explosives, Armaments, and Weaponry