New EduCart Workcell Features GP8 Robot and YRC1000 Microcontroller
Press Release Summary: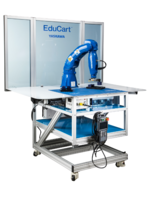 Powered through a standard 110 VAC outlet as well as features fenceless design and six-axis industrial robot
Robot play speed is limited to 25% for improved student safety
Includes integrated suite of industrial grade academic tools for teaching a wide variety of real-world applications
---
Original Press Release:
EduCart: Next-generation Fenceless Robotic Training Program
Dayton, OH (November 2019) — Developed for use in classrooms, robotics labs and robotics training centers, the pre-engineered EduCart™ workcell for education, workforce development, industrial robotics certification programs and Industry 4.0 applications features a fenceless design and six-axis industrial robot.
Compact and lightweight, the extruded aluminum cart is highly portable and features fold-in windows and a fold-up tabletop for transportation through a standard 36" doorway. The platform then easily expands to provide an increased work envelope for training. The EduCart platform includes a fully integrated suite of industrial grade academic tools for teaching a wide variety of real-world applications.
Featuring Yaskawa's GP8 robot and YRC1000micro controller, the EduCart is powered through a standard 110 VAC outlet. The YRC1000 standard pendant provides an easy-to-use graphical interface for programming, I/O control and monitoring. A versatile Schunk gripper package with 3D printed fingers and a robust control interface is included.
Offering 270 degrees of unobstructed coverage, an integrated laser scanner establishes a safe working zone, while a plexiglass guard offers additional safety from the rear. Robot play speed is limited to 25% for enhanced student safety.
A dry-erase table top offers a convenient marking surface, and a replaceable magnetic teaching mat provides virtually unlimited curriculum options, including palletizing and path following. Source files to create customized mats are included.
"Actively collaborating with our education community and workforce development partners has been the catalyst for this STEM* robotics training platform design," stated Bob Graff, Senior Manager for Yaskawa Motoman Education Products. "Offering educational solutions that use the same innovative equipment used in factories is vital to providing high schools, community colleges, vocational schools and technical colleges with the best possible tools for students who are pursuing careers in advanced manufacturing."
An optional vision kit easily integrates with EduCart for additional certification opportunities.
To learn more about Yaskawa Motoman's STEM products and services, visit motoman.com/stem.
About Yaskawa Motoman
Founded in 1989, the Motoman Robotics Division of Yaskawa America, Inc. is a leading robotics company in the Americas. With over 450,000 Motoman® robots installed globally, Yaskawa provides automation products and solutions for virtually every industry and robotic application; including arc welding, assembly, coating, dispensing, material handling, material cutting, material removal, packaging, palletizing and spot welding. For more information please visit our website at www.motoman.com or call 937.847.6200.
Contact:
Sally Fairchild
Sr. Mgr., Marketing
937.847.3202
More from Material Handling & Storage