New! Edge Welded Bellows Store Available Online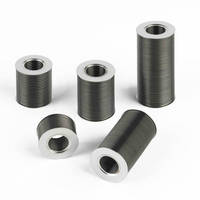 Ormond Beach, FL USA - BellowsTech edge welded bellows are now available for purchase online. With AM350 alloy material and end plates, BellowsTech is offering eleven different diameters. Each diameter product can be ordered in specific segment lengths, for a total of fifteen length options per size. Rather than the customer needing to weld segments together, BellowsTech offers the specific length required.

Products are all specified with a minimum of 100,000 cycles. By ordering the full length, customers increase performance by eliminating end plates between segments as well as save the time to put them together.

BellowsTech continues to offer semi-custom and custom bellows to its customers as well. The standard product line only increases the ability to help customers with budget and time restraints.

For a complete list of sizes, visit: http:www.bellowstech.com/metal-bellows/am350-bellows/

To place an order online, visit: http://buy.bellowstech.com/

About BellowsTech, LLC

BellowsTech, LLC is a premier manufacturer of metal edge welded bellows and assemblies, encompassing a wide array of alloys and dimensional configurations. The flexibility of material and size of metal welded bellows as well as application expertise have led BellowsTech into industries including aerospace, medical, test, semiconductor, solar, and oil and gas. In 2007, BellowsTech was acquired by Servometer.

Since 1957, Servometer has pioneered the manufacture of electrodeposited miniature metal bellows, bellows assemblies, contact springs, flexible shaft couplings and structurally rigid electroforms. Servometer miniature bellows are used in a variety of critical applications where high reliability and long-term use are required. Servometer has supported customers with quality products and technical service for over 50 years. Their unique, patented electrodeposition process has led Servometer to become the leading supplier of miniature metal bellows manufactured by this method.


More from Agricultural & Farming Products