New Edge-to-cloud Solution for Connecting Industrial Assets to Cloud
Press Release Summary: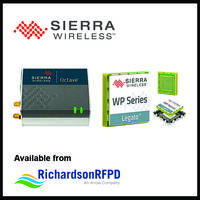 Securely integrates edge devices, networks and interfaces to all major cloud service providers
Provides fully secure infrastructure, from assets to the cloud making Industrial IoT development simple
Offers a transparent, flexible and predictable pricing model that allows customers to pay based on the number of messages and data points they want transmitted to the cloud
---
Original Press Release:
Richardson RFPD Announces Availability and Support for New Octave™ All-in-One, Edgeto-Cloud Solution for Industrial IoT from Sierra Wireless
Integrates edge devices, network and cloud APIs into a single, scalable solution
March 11, 2020 – Geneva, Ill.: Richardson RFPD, Inc., an Arrow Electronics company, announced today the availability and full design support capabilities for Sierra Wireless Octave™.
Octave is an all-in-one edge-to-cloud solution for connecting industrial assets to the cloud. According to Sierra Wireless, Octave securely integrates edge devices, networks and interfaces to all major cloud service providers, allowing companies to focus on their data, rather than complex IoT infrastructure. Octave provides a fully secure infrastructure, from assets to the cloud, making Industrial IoT development simple.
Richardson RFPD offers Octave in three new device options:
Ready-to-Connect FX30 IoT gateway in ethernet and serial variants
AirPrime® WP7702 LPWA embedded modules
Octave is powered by Sierra Wireless Ready-to-Connect devices, which come pre-certified and connected to Sierra Wireless' IoT network with coverage in more than 130 countries. Octave standardizes data processing at the edge and the cloud, allowing developers to process, analyze and act on data using a common JavaScript framework. Octave offers a transparent, flexible and predictable pricing model that allows customers to pay based on the number of messages and data points they want transmitted to the cloud, rather than difficult to predict megabytes per month.
The Octave FX30 IoT gateway provides superior performance in harsh environments with its small, rugged aluminum form factor. It meets MIL-STD-810 standard for vibration and mechanical shock and maintains operation in extended temperatures from -30°C to +75°C, making it the ideal embeddable solution for any industrial machine. The FX30 Octave includes a SIM preprovisioned for global connectivity, providing LTE Cat-M1/NB1 LPWA connectivity with 2G 1950 S. Batavia Avenue, Suite 100 Geneva, IL 60134 P 630 262 6800 F 630 262 6850 richardsonrfpd.com NEWS RELEASE FOR DETAILS CONTACT David Beck IoT Strategic Product Marketing Director david.beck@richardsonrfpd.com P 630 262 6800 fallback. An IoT connector expansion slot enables hardware extensions offering support for sensors and wired and wireless networks, such as Ethernet, Wi-Fi, Bluetooth, Zigbee, RS485 and CANbus.
The Octave solution runs also on the WP7702 LPWA module for Cat-M1/NB1 worldwide networks. It is fully compliant with the 3GPP Release 13 standard, providing a new low-cost, lowpower technology for low-bandwidth IoT applications, with extended reach beyond traditional cellular. The WP7702 delivers up to 300Kbps download speed and 375Kbps upload speed, making it ideal for real-time fixed or mobile applications such as industrial asset monitoring, health monitoring devices, tracking devices, and smart city devices.
To find more information or to purchase these products today online, visit the Octave, FX30 ethernet, FX30 serial and WP7702 webpages. The devices are also available by calling 1-800- 737-6937 (within North America); or find your local sales engineer (worldwide) at Local Sales Support. To learn about additional products from Sierra Wireless, please visit the Sierra Wireless storefront webpage.
About Richardson RFPD
Richardson RFPD, an Arrow Electronics company, is a global leader in the RF, wireless, IoT and power technologies markets. It brings relationships with many of the industry's top radio frequency and power component suppliers. Whether it's designing components or engineering complete solutions, Richardson RFPD's worldwide design centers and technical sales team provide comprehensive support for customers' go-to-market strategy, from prototype to production.
More information is available online at www.richardsonrfpd.com. Follow Richardson RFPD on Twitter at http://www.twitter.com/Richardson_RFPD.
To subscribe to Richardson RFPD's New Products e-newsletter, visit www.richardsonrfpd.com/subscribe.
For Details Contact:
David Beck
IoT Strategic Product Marketing Director
david.beck@richardsonrfpd.com
P 630 262 6800
More from Electronic Components & Devices