New EcoStruxure IT Expert Application Provides a Global View of Inventory
Press Release Summary: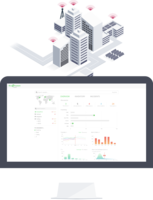 The EcoStruxure™ IT Expert Cloud-Based Application enables IT solution providers to offer remote monitoring service with real-time data and proactive recommendations. The cloud-based application is operated on IoT-enabled physical infrastructure such as secure power and cooling. It uses predictive analytics and reduces meantime to repair and improve system availability. The EcoStruxure™ IT Expert leverages big data and intelligent benchmarking from distributed IT environments to the data center.
---
Original Press Release:
Cloud-Enabled EcoStruxure™ IT for Partners Unlocks Visibility and Insights While Generating Recurring Revenue
EcoStruxure IT is the industry's first cloud-based Data Center Infrastructure Management (DCIM) solution, also referred to as DMaaS (Data Center Management as a Service)
EcoStruxure IT enables partners to increase customer intimacy, revenue streams and new business opportunities by providing visibility and insights into their customers' remote and distributed infrastructure
SAN ANTONIO, Aug. 20, 2018 /PRNewswire/ -- Schneider Electric, the global specialist in the digital transformation of energy management and automation, today announced EcoStruxure™ IT for Partners, an open, cloud-based, multi-tenant platform developed for IT solution providers focused on data center and distributed IT sites. This secure platform is enabled by EcoStruxure's predictive analytics and will host applications and tools for solution providers to build new, recurring service offerings and business models.
Available today is EcoStruxure IT Expert, a cloud-based monitoring application
The first EcoStruxure IT application being made available today is the monitoring application called EcoStruxure™ IT Expert. This application enables IT solution providers to deliver a remote monitoring service empowered with real-time data and proactive recommendations, reducing meantime to repair and improving system availability. Leveraging big data and intelligent benchmarking from distributed IT environments to the data center, EcoStruxure IT Expert provides a faster and easier way to deliver the services and support required by customers as they grow more dependent on their critical IT infrastructure.
"EcoStruxure IT Expert provides the foundation to give partners visibility into multiple customer sites and develop additional potential revenue streams," said Kim Polvsen, Vice President & General Manager of Digital Services & Data Center Software, Schneider Electric. "In the near future, we will deliver additional functionality and applications within EcoStruxure IT for Partners, offering our partners additional capabilities to remotely access customer sites and increase efficiency and control, reducing the need for onsite visits."
EcoStruxure IT Expert key benefits include:
Vendor-neutral and multi-tenant monitoring platform enabling partners to grow their services offer to include power and cooling.
For customers not under contract, partners can resell this simple to deploy Software as a Service offer for additional recurring revenue.
Global visibility into their customers' infrastructure – in the cloud or at the edge – with data-driven recommendations to improve performance and efficiency and reduce costs.
Global view of inventory, alarms, and recommendations to resolve; also with analytics and benchmarking.
"IDC views the EcoStruxure family as a transformative platform that changes the core way that datacenters are monitored and managed." Said Jennifer Cooke, Research Director for Data Center Trends and Strategies at IDC.
As part of Schneider Electric's EcoStruxure architecture, EcoStruxure IT operates on all IoT-enabled physical infrastructure assets like secure power and cooling — including the new Smart-UPS with APC SmartConnect, a cloud-enabled UPS, designed to be fast and cost-effective for deployment in small, distributed environments.
Programs and Support for IT Solutions Providers
To maximize Solution Providers success with the platform and applications, Schneider Electric offers a trained and dedicated Partner Success Management team for proper onboarding and effectiveness. Additionally, the APC Channel Partner Programprovides online training, certifications, opportunity registration, lead generation, promotions, sales and marketing tools, a Rewards Program — plus a 24/7, toll-free number to help solve customers' power and cooling challenges.
For partners looking to complement their service offerings with additional support or expertise, Schneider Electric's 24/7 proactive service bureau can be engaged through EcoStruxure Asset Advisorservices for secure power and cooling, providing access to more than 7,000 field service experts globally.
For a limited time, IT solutions providers in the US and Canada can sign up for a free 30-day trial of EcoStruxure IT for Partners. Also, until November 30th, every customer that a North American partner connects to the EcoStruxure IT Gateway will be counted as an entry for that partner to win a vacation of a lifetime through the Gateway to Getaway Contest. Every assessment a partner performs on a customer's IT through the Gateway will earn them an additional entry into the contest. Please visit the website to sign up for the free 30-day trial and for complete contest terms and conditions.
About EcoStruxure™
EcoStruxure is Schneider Electric's open, interoperable, IoT-enabled system architecture and platform. EcoStruxure delivers enhanced value around safety, reliability, efficiency, sustainability, and connectivity for customers. EcoStruxure leverages advancements in IoT, mobility, sensing, cloud, analytics, and cybersecurity to deliver Innovation at Every Level. This includes Connected Products, Edge Control, and Apps, Analytics & Services. EcoStruxure has been deployed in 480,000+ sites, with the support of 20,000+ system integrators and developers, connecting over 1.6 million assets under management through 40+ digital services.
Click here for or more information about EcoStruxure IT for Partners.
About Schneider Electric 
Schneider Electric is leading the Digital Transformation of Energy Management and Automation in Homes, Buildings, Data Centers, Infrastructure and Industries. With global presence in over 100 countries, Schneider is the undisputable leader in Power Management – Medium Voltage, Low Voltage and Secure Power, and in Automation Systems. We provide integrated efficiency solutions, combining energy, automation and software. In our global Ecosystem, we collaborate with the largest Partner, Integrator and Developer Community on our Open Platform to deliver real-time control and operational efficiency. We believe that great people and partners make Schneider a great company and that our commitment to Innovation, Diversity and Sustainability ensures that Life Is On everywhere, for everyone and at every moment. schneider-electric.com.
Related resources:
Hashtags: #EcoStruxure #IoT #dmaas #datacenter
Follow us on:
Twitter
Facebook
LinkedIn
Google Plus
YouTube
Instagram
Schneider Electric Blog
CONTACT: Schneider Electric: David Smith, Phone: 978.502.9607, David.Smith.US@schneider-electric.com; or Text100 for Schneider Electric: Renatta Siewert, Phone: 212.331.8402, Renatta.Siewert@text100.com
More from Controls & Controllers