New EC042B IDEA Motor Series Available in Three Motor Lengths
Press Release Summary: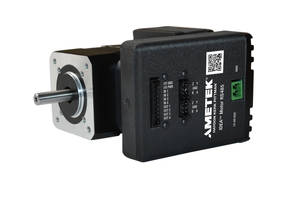 Designed for real-time embedded motion control
Single motor/drive unit reduces motion system components by up to 75% per axis
Ideal for lab automation, medical devices, communications equipment and semiconductor processing equipment applications
---
Original Press Release:
Haydon Kerk Pittman New Product Announcement EC042B IDEA® Motor
Harleysville, PA – Haydon Kerk Pittman is pleased to announce the latest addition to its popular line of brushless DC motors: the EC042B IDEA® Motor Series. This revolutionary new product combines exceptional performance with convenience and value.
The programmable IDEA® Motor integrates a precision brushless servo motor with an IDEA® Drive controller in a compact package to reduce design time, wiring needs, and cabinet space, leading to lower overall system costs.  The IDEA Motor is specifically designed for real-time embedded motion control and is ideally suited for autonomous precise execution of complex single-axis motion.
Save money and space by utilizing the IDEA Motor's integrated package of motor, drive, and feedback connections in a compact and programmable unit.  A single motor/drive unit reduces motion system components by up to 75% per axis and simplifies machine troubleshooting.  Further reductions can be achieved by wiring sensor inputs and control outputs directly to the IDEA® Motor, rather than through a control cabinet. 
Save time using a pre-engineered, factory-configured and tested servo system.  Immediately generate complex precise motion sequences utilizing our free Graphical User Interface that provides an intuitive programming environment to quickly develop, save, and debug complex motion sequences. Since the connections between the drive and motor are made internally, simply connect power, optional I/O connections, and communications, and the IDEA® Motor is ready to operate. The EC042B IDEA® Motor is also stocked for immediate delivery at our online store.
RS-485 communications fieldbus ports are integrated for programming autonomous motion sequences, monitoring system status, or streaming commands to synchronize motion among multiple motors. Since additional communications protocols will be released in the near future, please consult on new opportunities with your Haydon Kerk Pittman Sales Representative or Application Engineers at https://www.haydonkerkpittman.com/contactus/application-support.
The EC042B IDEA® Motor is available in three motor lengths, each with optional factory-configurable gearboxes.  The wide range of reduction ratios and torque capabilities enable optimized performance of the EC042B IDEA Motor for unique motion applications, such as those required by lab automation, medical devices, communications equipment, semiconductor processing equipment, aerospace systems and many other applications where precision motion and compact packaging are critical.
Complete product information is available through our website at haydonkerkpittman.com. 
About Haydon Kerk Pittman
Haydon Kerk Pittman is a business unit of AMETEK, Inc., a leading global manufacturer of electronic instruments and electromechanical devices with annual sales of approximately $5 billion. 
Haydon Kerk Pittman is the joining of three world-class brands in the field of linear and rotary motion. Recognized as a leading manufacturer of stepper motor-based linear actuators, rotary motors, lead screw assemblies, brushed and brushless dc motors, and linear rail and guide systems used in niche market applications, Haydon Kerk Pittman has developed industry-renowned products built upon its technical innovation, versatility, customization, product durability, and dedicated customer service. For additional information regarding Haydon Kerk Pittman's complete line of products and capabilities, visit www.haydonkerkpittman.com.
Contact:
Marcia Colucci
203-756-7441 ext. 255
More from Software