New E-FLUIDS Supports Battery and Fuel Cell Electric Powertrains
Press Release Summary: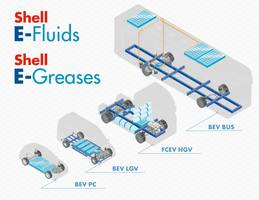 Consist of e-transmission fluids, e-greases and battery thermal fluids for commercial vehicles
Up to 8x low electrical conductivity, oxidation stability and 3x less copper erosion
Suitable for electric vehicles from passenger and van models to large trucks and buses
---
Original Press Release:
Shell Launches E-Fluids for Electrified Commercial Vehicles
Shell E-fluids portfolio improves reliability, efficiency and performance for all passenger and commercial vehicles with electric powertrains
London, - Shell extends its globally available specialised fluids portfolio – Shell E-Fluids – to support battery electric (BEV) as well as fuel cell electric (FCEV) powertrains for commercial light, medium and heavy duty vehicles. Shell works with truck and bus manufacturers to co-engineer bespoke fluids that meet the specific needs of their different electric drivetrains for their commercial vehicle models.
This extension to the portfolio builds on the successful launch of the Shell E-Fluids range for passenger vehicles in May 2019. With this expansion to the portfolio, manufacturers of all electric vehicles from passenger and van models to larger trucks and buses can now benefit from the extensive range of specialised Shell E-Fluids and E-Greases.
"Once added to the sealed environments of BEV or FCEV commercial vehicles, the fluids need to perform at optimum levels over the vehicle's lifetime; this is why first fill is so important for electric vehicles," said Carlos Maurer, Executive Vice President, Global Commercial, Shell. "We have used Shell gas to liquid (GTL) base oil technology for the Shell E-fluids portfolio because its low viscosity properties allow for higher efficiency in the vehicle's powertrain. Our lubricants research laboratories have focused on delivering cutting-edge fluid solutions to meet the specific electric drivetrain challenges of temperature control, oxidation, copper erosion and thermal conductivity."
The commercial road transport sector, which delivers goods to shops and consumers' homes as well as providing public transport, emits 8% of global energy related CO2. The lead to decarbonise road freight is being driven by policy action in markets such as the EU, China, South Korea and Japan as well as voluntary action by corporates. Both BEV and FCEV solutions will have a role to play because the pathways and timelines for road freight decarbonisation will vary by geography, sector and duty sector. Shell E-Fluids is one of the ways that Shell is partnering with the commercial vehicle sector to help deliver decarbonisation pathways.
The Shell E-Fluids range for commercial vehicles consists of e-transmission fluids, e-greases and battery thermal fluids. To date commercial vehicle manufacturers have had to predominantly rely on a range of fluids, which have been developed for internal combustion engines vehicles and do not deliver the necessary ultimate performance and efficiency for electric powered vehicles.
8% includes trucks and buses: Source: IEA Tracking Transport 2019, IEA Energy Technology Perspectives 2017, IEA Future of Trucks
Performance Benefits of Shell E-Fluids for Commercial Vehicles
The specialised Shell E-fluids deliver:
Outstanding oxidation stability which results in longer lifetime of the lubricant to avoid as much as possible any maintenance downtime or oil changes needed during the life time of the vehicle

Even at high temperatures, standard oxidation tests show that the Shell E-Fluid Technology oxidizes 50% less compared to a competitor E-Fluid solution.

Up to 8x lower electrical conductivity when cooling the electric motor under typical operating conditions temperatures, compared to a conventional transmission fluid designed for heavy duty ICE commercial vehicles.
More than 3x less copper erosion compared to a competitor's specialised E-Mobility driveline fluid, due to the reduction of sulphur content in combination with its optimised additive system.
Up to 9% higher thermal conductivity compared to a competitor's specialised E-Mobility driveline fluid, enabling higher cooling capabilities for end windings of electric motors and gearbox lubrication.
Royal Dutch Shell plc Enquiries: 
Media:
+44 (0) 207 934 5550
About Shell
Royal Dutch Shell plc is incorporated in England and Wales, has its headquarters in The Hague and is listed on the London, Amsterdam, and New York stock exchanges. Shell companies have operations in more than 70 countries and territories with businesses including oil and gas exploration and production; production and marketing of liquefied natural gas and gas to liquids; manufacturing, marketing and shipping of oil products and chemicals and renewable energy projects. For further information, visit www.shell.com.
More from Software