New dynAXIS 421 Galvanometer Scanner Comes with Optical Position Detector
Press Release Summary: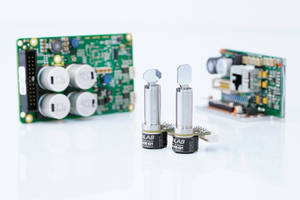 The dynAXIS 421 Galvanometer Scanner provides digital system monitoring and customizable feedback signals. The device is suitable for applications ranging from OCT to microscopy, DNA-sequencing and medical laser treatments. The scanner's system status monitoring option allows user to customize as per application requirements.
---
Original Press Release:
Smart Galvanometer Scanner for Medical and Scientific Applications
Compact system for highest precision and scanning speed
Puchheim, Germany – Jan. 29, 2019 – SCANLAB GmbH, market-leading OEM manufacturer of advanced laser scan systems, presents its latest offering in the galvanometer product range: the compact dynAXIS 421. The small sized galvo is especially suited to applications in the medical environment – from Optical Coherence Tomography (OCT) to microscopy, DNA-sequencing and other medical laser treatments. The superior motor design with analog or digital servo-control technology, together with ISO 9001-certified quality standards, guarantees highest reliability and extraordinary precision. Digital system monitoring and customizable feedback signals offer an appropriate solution for demanding bio-medical and industrial customers.
Medical applications have special requirements to ensure patient comfort and safety. Therefore precision and long-term reliability are particularly important. Improved scan efficiency, resulting in shorter treatment times and higher quality imaging are especially beneficial in the biomedical sector.
The new compact galvanometer scanner dynAXIS 421 meets the market needs at a reasonable cost target. When combined with SCANLAB's digital servo-controller, the galvo provides highest dynamics. The new optical position detector results in superior precision and stability. System status monitoring is a flexible feature which can be tailored to the application needs. Low heat generation and optimized thermal resistance ease the integration into handheld devices or complex medical and ophthalmic instruments.
Thanks to SCANLAB's lean organization, lead times are not only shorter than market average, but are highly dependable. 'Made in Germany' proves highest quality standards and consistency across the entire product range. Experienced sales engineers and an application support team provide quick and detailed responses, and customization as needed.
The compact dynAXIS 421 may be purchased with either analog or digital servo-driver boards and a large variety of mirrors and coating options. Standard configurations are available now. 
Current tradeshow calendar:
SPIE.Photonics West BIOS 2019 from February 2 - 3, 2019 in San Francisco, CA, USA, Hall A – Booth 8862.
SPIE.Photonics West 2019 from February 5 - 7, 2019 in San Francisco, CA, USA, South Hall – Booth 2251.
Photonics Russia 2019 from March 4 - 7, 2019 in Moscow, Russia.
LASER World of Photonics China 2019 from March 20 - 22, 2019 in Shanghai, China, Hall W2 – booth 2214.
About SCANLAB:
With over 35,000 systems produced annually, SCANLAB GmbH is the world-leading and independent OEM manufacturer of scan solutions for deflecting and positioning laser beams in three dimensions. Its exceptionally fast and precise high-performance galvanometer scanners, scan heads and scan systems find application in industrial materials processing and the electronics, food and beverage industries, as well as biotech and medical technology.
For over 25 years, SCANLAB has secured its international technology leadership through pioneering developments in electronics, mechanics, optics and software, as well as the highest quality standards.
SCANLAB GmbH
Eva Jubitz
Marketing & Communication
Siemensstr 2a • 82178 Puchheim • Germany
Tel. +49 (89) 800 746-420 • Fax +49 (89) 800 746-199
mailto: E.Jubitz@scanlab.de • www.scanlab.de
Related