New DYNA-FAST Thermometer with Operator-free Scanning
Press Release Summary: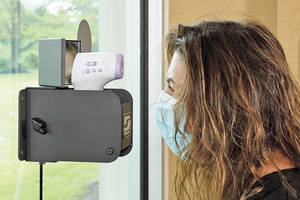 Produces an simple to ready digital output reflected into a mirror for instant results
Features a contactless forehead thermometer
Includes cable, foot-pedal, upper/lower housing and loop clamps
---
Original Press Release:
Dynabrade Begins Manufacturing DYNA-FAST Foot Activated Screening Thermometer
Clarence, NY: Returning to work safely is priority one amid the Covid-19 pandemic. The DYNA-FAST Thermometer from Dynabrade is the latest innovation to help businesses resume safe operations.
Fast, contactless temperature screening is an additional step every individual must take to ensure the health and safety of co-workers. Fast, self-screening upon entry each day takes only a few seconds and helps protect individuals, teams, work cell and customers.
The DYNA-FAST features a Contactless Forehead Thermometer and has Operator-Free Scanning. The person uses a Foot Petal to Activate the thermometer reading. DYNA-FAST produces an easy to ready Digital Output reflected into a mirror for instant results. Fahrenheit and Celsius available.
Place your forehead in front of the thermometer. Put your foot on the activation button to begin. View your temperature in the mirror. It's as easy as that.
DYNA-FAST Includes cable, foot-pedal, upper/lower housing and loop clamps. Available with or without Thermometer. Works with most hand-held Forehead Thermometers.
Manufactured in the U.S.A at our factory in Clarence, New York.
Dynabrade, Inc. • 8989 Sheridan Drive • Clarence, New York 14031
Driven by the desire to optimize its customers' processes, Dynabrade manufactures pneumatic abrasive power tools to offer complete process solutions including industrial vacuums, abrasives and accessories for industrial clients around the world. 
Learn more at: www.dynabrade.co
Contact:
Andrew Mandell Marketing Manager
(716) 631-0100; Ext 131
E-mail: [email protected]