DC to DC Power Supplies (Converters)
New DSE Series Features 36 to 75V Input Voltage Range
Press Release Summary: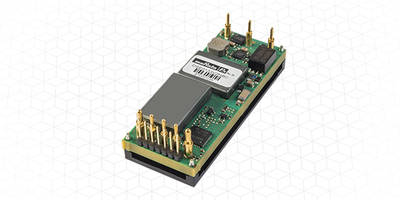 Supports PMBus protocol for communications to power modules
Features DOSA digital interface and provides 95.5% efficiency (12Vout)
Ideal for telecommunications, industrial and test equipment applications
---
Original Press Release:
1/8th Brick DC-DC Converters Deliver PMBus Standard Support for Advanced Communication and Control
Murata has launched its DSE Series, a fully isolated, 12Vout, 400W eighth brick DC-DC converter with a DOSA compliant digital interface to support the PMBus standard for communication and control. The Series has a droop load sharing option for paralleling up to three modules in some of the most power demanding applications. Further, the series meets the international TNV standard for Input Voltage with a 36-75Vin range and provides 2250Vdc isolation for use in Power over Ethernet (PoE) applications.
Features
DOSA digital interface
36 to 75V Input voltage range
95.5% efficiency (12Vout)
2250Vdc I/O isolation
Passive Droop Load Sharing (optional)
DOSA (Distributed Power Open Standard Alliance) footprint
Three pin/function configurations available:
o   Full PMBus with Sense & Trim Pins
o   No PMBus with Sense & Trim Pins
o   5 Pin Bus converter, No Sense & Trim Pins
Benefits
Supports the PMBus protocol for communications to power modules
Can connect 2 or more converters in parallel for demanding applications
Provides redundancy in high reliability applications
Baseplate included on all variants for optimal thermal performance
Applications
Power over Ethernet applications
Wireless pre-amplifiers and networking equipment
Telecommunications, industrial and test equipment