Wire Cable and Fiber Rope Assemblies
New DRIVEFLEX VFD Cables Come with XLPE Insulation
Press Release Summary: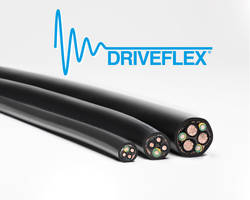 The DRIVEFLEX® VFD Cables are available in family ranges AWG18 to 500MCM with and without control pairs. The units are made of thermostat material that can withstand overload and short circuit temperatures. They are compliant to NFPA79, UL 508A, NFPA 79 and NEC standards and come with oil resistant PVC jacket.
---
Original Press Release:
DRIVEFLEX® – VFD Cables for Best Practice AC Drive Wiring
Charlotte, NC – August, 2018 - LUTZE Inc offers innovative, market driven products for industrial automation. LUTZE has introduced a comprehensive line of VFD & motor supply cables for best practice VFD installations.
All LUTZE DRIVEFLEX® VFD cables feature thermoset XLPE insulation which offers superior electrical performance and improved safety to any VFD application compared to power tray cables with PVC/Nylon insulation.
Key design features of the DRIVEFLEX® VFD cables include:
Thermoset material that can withstand higher overload and short circuit temperatures
Superior electrical performance
Fully compliant with NFPA79 requirements and follow major VFD manufacturers' recommendations
LUTZE DRIVEFLEX® VFD cables feature a flexible, oil resistant, easy to strip PVC jacket for faster installation in the field. The cables carry multiple approvals and are in compliance with UL 508A, NFPA 79 and NEC requirements on VFD cables.
The complete DRIVEFLEX® cable family ranges from AWG18 to 500MCM with and without control pairs. Additionally, LUTZE offers cut to length service and low minimum order quantities with fast turnaround times for same day shipments. For DRIVEFLEX® specific information, please visit www.driveflex.com and www.lutze.com. 
LUTZE Inc designs and manufactures control products for factory automation and specializes in flexible industrial cables such as LUTZE Silflex®, Superflex®, MOTIONFLEX™, DRIVEFLEX®; grounding and wire management products, compact power supplies, LSC-Wiring System for control cabinets, current control system LOCC-box and LCIS relays.
LUTZE Inc located in Charlotte, NC, is part of the LUETZE International Group. Founded in 1958, LUETZE International Group has manufacturing and distribution operations in Germany, Austria, France, Switzerland, Great Britain, Czech Republic, Spain, China and the USA. Efficiency in Automation!
For more information, please contact:
LUTZE Inc.
13330 South Ridge Dr
Charlotte, NC 28273
Tel.: 800-447-2371
Fax: 704-504-0223
More from Communication Systems & Equipment