New Drive System Speeds Printing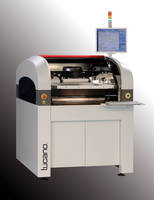 Essemtec's Tucano stencil printer is now faster and more accurate

Experiences gained in solar cell printing have been incorporated into Essemtec's Tucano automatic stencil printer. The printer is now one of the top products in the stencil printer market, offering a cycle time of less than 10 seconds and accuracy better than 12 µm. Additionally, it features the highest reliability and lowest operating cost.

Accuracy is extremely important in the solar cell printing. Therefore, Essemtec has built the SP900-S, a printer specialized for the solar industry. Today, the successfully tested concepts are transferred into electronics manufacturing as well: The Tucano stencil printer is being redesigned. The SP900-S' outer frame construction and damping system, and the control concept have been implemented into Tucano. Furthermore, the drive and board clamping system are being further developed.

With the redesign, the Tucano stencil printer becomes faster and more accurate. It now features a cycle time of below 10 seconds and accuracy better than 12 µm. The welded frame construction, new damping technology and the new drive system make this possible. Vibrations are stopped immediately, which leads to shorter transport and alignment times. Furthermore, the new 1 µm encoder system increases precision.

Compared to other printers of its class, the Tucano provides reliability and price advantages. This is because of the unique XY drive system for the vision camera, the 2D inspection, the stencil cleaning, the stencil feeding system and the PCB stopper. Tucano only uses one single drive system for all of them, where other printers have separate motors for every motion. This saves money and space, increasing reliability and reducing maintenance cost.

Despite the technical finesse and flexibility, the Tucano printer is easy to use. User guidance for setting up a new printing process is complete and is supported with easy-to-understand graphics. For experienced users, the Tucano offers many possible adjustments for process optimization, making the system well suited for both flexible and mass production. The Tucano printer is now being shipped in the new, improved configuration.

About the company:

The Swiss machine manufacturer Essemtec is a market leader in manufacturing flexible production systems for industrial users. Essemtec has been developing, manufacturing and marketing equipment and machines for all processes in the electronics industry since 1991: printers, dispensers, pick and place and soldering systems. Manual, semi-automatic and fully automatic systems are available. The range of products also includes transportation and storage systems, as well as software solutions for planning, simulation optimisation and documentation of manufacturing. All Essemtec systems are optimized for maximum flexibility. The user can switch from one product to another in no time, thus making maximum use of the available production capacity. Essemtec - Be more flexible.

More from Materials