New DPG-SD-2 Series Digital Temperature Gauge Comes with Adjustable HI Alarm Set Point
Press Release Summary: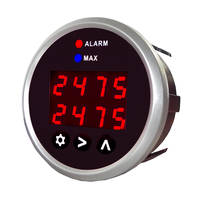 DPG-SD-2 Series Type K Digital Temperature Gauge is offered in 52mm O.D. round housing with IP65 rated face. Unit can be operated in -40 to +85°C temperature range with 9 to 32 VDC input supply. Gauge features internal 2 A alarm relay circuit, max peak temperature recall function and +32 to +2282°F display range flashing display. Unit comes with front panel membrane keypad for easy programming.
---
Original Press Release:
Single Channel Round Compact Digital Thermocouple Gauge by the Sensor Connection a division of Harold G. Schaevitz Industries LLC
DPG-SD-2 series Compact Round Dual Channel Digital Temperature Gauge for Industrial Applications
Troy, Michigan, June 22, 2018… The Sensor Connection a division of Harold G. Schaevitz Industries LLC, has expanded its line of temperature measurement and control instrumentation with the addition of the model DPG-SD-2 series dual channel digital Type K thermocouple temperature gauge. Manufactured in the USA, this microprocessor-based gauge is packaged in a compact 52mm O.D. round housing with an IP65 rated face ideal for use in harsh industrial environments. The dual line bright red LED numeric display is easy to read, even at a distance. During a high temperature alarm condition the display flashes and an internal 2 Amp relay circuit is activated. Programming of the gauge is quick and easy using the front panel membrane keypad.
Features of the DPG-SD-2:
Input: 2 Type K Thermocouple sensors
Temperature units field selectable for °C or °F
User adjustable HI alarm set point
Max Peak Temperature recall function
Internal 2 Amp alarm relay circuit
IP65 rated face
Powered by 9 to 32 VDC
Display Range: +32 to +2282°F (0 to +1250°C)
Operating Temperature: -40 to +85°C
Case Size: 52mm O.D. x 38mm deep
The Sensor Connection a division of Harold G. Schaevitz Industries LLC is a North American company whose management has a combined experience of over 50 years in the sensor industry. We have a technically trained staff to help you select the ideal sensors for your application. Our core product offering includes Exhaust Gas Thermocouples (EGT) Probes, Thermocouples, RTDs, Linear Position sensors, Rotary Position sensors, Pressure sensors and switches. In addition to our standard products, we have capabilities to design and build custom products to suit your specific application. Major markets served include Motorsports, Marine, Heavy Vehicle, R&D Test labs, Power Generation, Military, and Industrial Manufacturing Assembly & Test.
Product Link:
http://thesensorconnection.com/thermocouples/electronics/dual-channel-round-digital-type-k-thermocouple-gauge-display
Video:
Media Contact: Chris Branstrom / 248-636-1515 / chrisb@thesensorconnection.com
Technical Contact: Neill Murphy / 248-636-1515 / neillm@thesensorconnection.com
More from Thermal & Heating Equipment