New Double Adapter Friction Hinges are Ideal for Larger Center Mounts
Press Release Summary: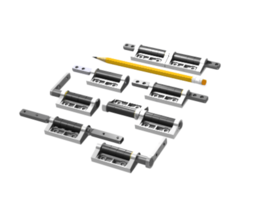 Available in ZE375ZA151 and ZE375ZA152 models
Can work with plastic and metal cases
Able to eliminate the problem such as twisting or racking, adding solid stiffness and stability to the panel
---
Original Press Release:
TorqMaster Adds Two New Double Adapter Friction Hinges to Its Line-Up
TorqMaster, a leading designer and manufacturer of friction hinges, has added two new double adapter hinges to its family of stock products. These hinges, models ZE375ZA151 and ZE375ZA152, are the perfect solution for larger center mounts. They eliminate the concern of twisting or racking, adding solid stiffness and stability to the panel. The new ZE375ZA151 and ZE375ZA152 hinge work great with both plastic and metal cases. They sit surface mounted, with screws flush to the surface plane. Data sheets for these and all TorqMaster products are available on the TorqMaster website. For the ZE375ZA151 and ZE375ZA152 models, find the Stock Hinge Tab, then the ZE-375 product grouping.
TorqMaster is a designer and manufacturer of friction, torsion, and damping hinges. Our friction hinges are engineered to eliminate free-play and spring back while supplying consistent torque. With complete in-house assembly capabilities, TorqMaster produces thousands of friction hinges every week. Products are tested on computerized assembly stations with portions of every order life tested. TorqMaster designs and engineers all of its own assembly and testing stations and works closely with clients to implement the exact qualities and test programs required for their needs. Customer satisfaction is paramount, the company prides itself on quick responsiveness to requests, and never compromises on the highest-quality standards, product performance or on-time delivery. TorqMaster has the experience, knowledge and sophistication to help bring your product to market. For more information, contact us today!
Visit: torqmaster.com Email: [email protected] Call: 203-326-5945, Toll-Free: 888-414-4643