New Dominator Replay Server is Equipped with 12 Universal 12G / 3G / HD / SD Video Interfaces
Press Release Summary: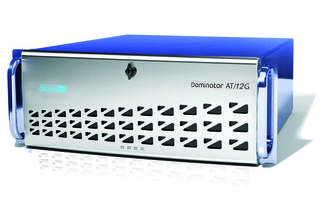 Dominator AT/12G 4K Video Production and Slow Motion Replay Server supports 662 configuration (6REC+6SEARCH+2PLAY) and 10-channels recording (10REC+10SEARCH+4PLAY) in 4K and 3G/HD replay mode respectively. Unit features four independent graphics outputs that allow each operator to work with separate monitor. Server comes with optional MultiSkin function that enables user to display different interfaces on one monitor and is offered with 266 hours capacity of SSD storage, 10GbE and 12G SAS connectivity and Telestrator.
---
Original Press Release:
At IBC Slomo.tv Launches New Dominator AT/12G 4K Video Production & Slow Motion Replay Server
4K instant replay server claimed to be World's most affordable and powerful multi-functional 4K Server
TORRANCE, CA (July 11 2018) – At IBC (stand 8.B40), Slomo.tv, a leading international producer of cost-effective, high performance SSD-based video record and replay systems, has ripped up the server rule book. The company will launch a new aggressively priced server, designed especially for fast growing 4K market. Slomo.tv's CEO, Michael Gilman, reports that this latest addition to the company's Dominator range represents the world's most cost-effective and powerful multi-functional 4K server.
Designated Dominator AT/12G, the new server provides advanced slow motion and instant replay capabilities as well as direct recording for editing 'on site'. In the 4K mode it supports the 662 configuration (6REC+6SEARCH+2PLAY), however in 3G/HD replay mode it supports 10-channels recording, search on all channels and four channels replay (10REC+10SEARCH+4PLAY). Mode switching is achieved with one button push and does not require any re-configuration of the system.
"Since many manufacturers use 12G SDI interfaces for 4K (UHD) operation, the new server is equipped with 12 universal 12G / 3G / HD / SD video interfaces," explains Michael Gilman. "This allocates one (BNC) connector for all standards, which perfectly fits modern cameras and mixers and significantly reduces the number of connecting cables."
Building on the success of previous models, the new Dominator AT/12G offers enhanced replay capabilities with two operators working simultaneously on the same unit. With four independent graphics outputs each operator can work with separate monitors using the main GUI and Multiviewer. The GUI built-in Multiviewer has five basic configurations, displaying video windows of different or equal size, for input video, search channels, and video outputs.

Of value in compact OB environments, an optional MultiSkin function allows the user to display several different interfaces on one monitor: these include the main GUI interface, Multiviewer and Game Analyzer (telestrator).
The €80,000 base configuration includes the 4U server unit, 266 hours capacity of SSD storage (100mbit HD video), 10GbE and 12G SAS connectivity, redundant power supply, remote controller and DMR™ ProRes 422 support for 4K mode, Telestrator and transfer options. 
About Slomo.tv
Established in 2007, the company has successfully introduced complete lines of high quality multi-channel professional recording and instant replay products. Slomo.tv has brought to market a number of effective solutions for tapeless video production technology. Slomo.tv systems, such as Dominator and Simple R, are widely used on major TV channels, and the company's video judging system for sports, videoReferee®, has become an integral part of many sport arenas worldwide.
Slomo.tv
For more information, please contact:
Bob Charlton
bob@scribe-pr.com
+44 20 7084 6335
Related