New DOC30 - a Compact and Efficient Heat Exchanger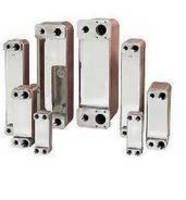 This new, smaller copper brazed plate heat exchanger for oil cooling applications is another step in the launch of the new generation heat exchangers from Alfa Laval. With higher efficiency and a general increase on performance capacity, the DOC30 can tackle large-capacity duties even with only limited installation space available.

o The new DOC30 is a smaller version of DOC60, launched in December last year. We are updating our range of products and we see a big interest in these more compact models from our customers. It is the new generation heat exchangers, says Jenny Thorsen, Portfolio and Application Manager at Alfa Laval.

For oil cooling applications, the new DOC30 (Dedicated Oil Cooler) copper brazed plate heat exchanger offers both higher efficiency with a smaller heat transfer area leading to a general increase in performance capacity over its predecessors.

The new DOC30 also offers less pressure drop which in turn reduces power consumption. At the same time, the DOC30 retains the same interface as its successful predecessors so replacement is made easy.

The design options of the copper brazed plate heat exchanger are extensive and different stainless steel plate patterns are available for different duties and applications.

Alfa Laval is the world's leading manufacturer of brazed plate heat exchangers. This translates into solid experience in designing units that effectively withstand the structural stresses of high-pressure and high-temperature conditions.

Alfa Laval is a leading global provider of specialized products and engineering solutions based on its key technologies of heat transfer, separation and fluid handling.

The company's equipment, systems and services are dedicated to assisting customers in optimizing the performance of their processes.

The solutions help them to heat, cool, separate and transport products in industries that produce food and beverages, chemicals and petrochemicals, pharmaceuticals, starch, sugar and ethanol.

Alfa Laval's products are also used in power plants, aboard ships, in the mechanical engineering industry, in the mining industry and for wastewater treatment, as well as for comfort climate and refrigeration applications.

Alfa Laval's worldwide organization works closely with customers in nearly 100 countries to help them stay ahead in the global arena.


More from Fluid & Gas Flow Equipment