New DMS01 Series Offer Adjustable Display Brightness and Digital Noise Filtering
Press Release Summary: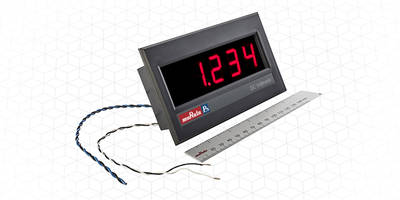 Includes 25.4mm tall LED bright displays that are readable up to 24 meters
Digital voltmeter and DC ammeter provides precise measurement and display of DC voltage
Digital voltage-input and current-loop process meter with 32 user-selectable span (display) ranges
---
Original Press Release:
Digital Panel Meters for Industrial Applications Deliver High Accuracy and Increased Design Flexibility
Murata is introducing a range of large format digital panel meters, the DMS01 Series from Murata Power Solutions.  The product line-up offers both process voltage and current measurement functions across a broad range. The meters also provide bright, 25.4mm tall LED displays that are readable up to 24 meters and offer adjustable display brightness and digital noise filtering. Each meter requires an external 12VDC power source that provides power to the meter and an internal DC-DC converter that accommodates a +/-48V common-mode measurement range with respect to the power supply input.
Provides precise measurement and display of DC voltage
Measures DC Volts with user selectable ±2 VDC or ±200 mVDC ranges
Digital filter for optimizing measurements in electrically noisy environments
Provides precise measurement and display of DC current
Supports a wide range of external shunts
Measures ranges of 1A to 1200A
Supports user selectable 50 or 100 mV external shunts
Digital Voltage-Input Process Meter
Provides precise measurement and display of voltage process signals
Measures 0-5 V or 0-10 V process signals
32 user-selectable span (display) ranges
Choice of user calibration or factory calibration modes
Digital Current-Loop Process Meter
Provides precise measurement and display of current loop process signals
Measures 4-20mA or 0-20mA current loop process signals
32 user-selectable span (display) ranges
Applications
Laboratory instrumentation
Factory automation
Commercial & industrial retrofitting services
Any application requiring precision monitoring