New DLW32MH101XT2 Common-Choke is Designed for Demanding Automotive Applications
Press Release Summary: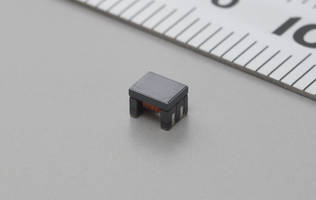 Available in 3.2 x 2.5 mm x 2.5 mm size with typical DC resistance of 2.6Ω and up to 100 mA current rating
Operated in -40°C to +125°C temperature range and features inductance value of 100 uH
Compatible with automotive high-speed LAN standard for 1000BASE-T1 applications
---
Original Press Release:
New Common-Mode Choke is First to Meet Requirements of 1000BASE-T1 Automotive LAN
Hoofddorp, Netherlands: Murata announce the sampling of the world's first common mode choke coil designed to be fully compatible with the automotive high-speed (1Gbps) LAN standard, 1000BASE-T1. The new DLW32MH101XT2 is the industry's smallest common mode choke coil for 1000BASE-T1 applications.
Vehicle technology has rapidly evolved in recent years to include advanced driver assistance systems (ADAS) and sophisticated in-vehicle infotainment (IVI) while moving ever closer to fully autonomous operation. As a result, vehicle communication busses carry increased-bandwidth data from higher resolution image sensors and more complex electronic control units (ECUs). To support this traffic, the 1000BASE-T1 standard is expected to become widespread in the future.
The DLW32MH101XT2 supports the S-Parameter characteristics specified by the OPEN alliance automotive network standard organization and meets the characteristics for noise filters in 1000BASE-T1 communications. Through the application of Murata's winding technology and using a unique winding structure, the device is the smallest currently available, measuring just 3.2 x 2.5 mm x 2.5 mm and weighing just 0.064 g. It offers an inductance value of 100 uH and a typical DC resistance of 2.6 Ohm and is rated for currents up to 100 mA.
Compliant with the AEC-Q200 automotive standard, the common mode choke coil offers an extended temperature range of -40 °C to +125 °C, making it ideal for demanding automotive applications.
For further information and reader enquiries:
Dunya Kamil, Murata Electronics Europe B.V., Wegalaan 2, 2132 JC, Hoofddorp, The Netherlands
Tel: +31 (0) 23 56 98 456 E-mail: dkamil@murata.com
Fax: +31 (0) 23 56 98 361 Web: www.murata.com
Agency contact:
Rachel Sandeman, Publitek Limited, 18 Brock Street, Bath, BA1 2LW, United Kingdom
Tel: +44 (0) 2038 136425 E-mail: rachel.sandeman@publitek.com
Web: www.publitek.com
About Murata
Murata is a leading manufacturer of electronic components, modules, and devices. The complete range includes ceramic capacitors, resistors/thermistors, inductors/chokes, timing devices, buzzers, sensors and EMI suppression filters. Whilst the company is known as a global ceramic capacitor manufacturer, it is also a world leader in Bluetooth® & WiFi™ Modules, board-mount DC-DC converters and is a key manufacturer of standard and custom AC-DC power supplies.
Established in 1944, Murata is headquartered in Japan and has European offices in Finland, France, Germany, Hungary, Italy, the Netherlands, Spain, Switzerland and the UK.
For more information on Murata, please visit: www.murata.com. You can also follow us on Twitter @MurataEurope or LinkedIn http://www.linkedin.com/company/murata-electronics, or join us on Facebook at http://www.facebook.com/MurataElectronics.
More from Agricultural & Farming Products