New Dimensions in Scalability and Response Time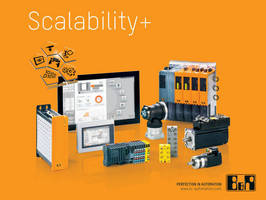 BR at the 2013 SPS IPC Drives trade fair in Nuremberg



This year's SPS IPC Drives trade fair in Nuremberg will be taking place November 26–28, 2013. B&R will be taking advantage of the opportunity offered by the world's premier trade fair for industrial automation systems and components to present their entire product range in hall 7, booths 110 and 206. Two main topics are on the B&R agenda this year: maximizing scalability and minimizing response time.



Unprecedented scalability

With Scalability+, B&R is establishing a new philosophy for scalability. This new approach opens up entirely new dimensions for machine builders, making it possible to perfectly tailor an automation solution directly to the needs of a specific machine. It allows you to select a hardware and software solution that best fits your automation needs – all without being forced to enter into any kind of commitment. If it becomes obvious during development that the components or solutions need to be scaled up or down, this can be done at any time without losing a single bit of the work that has already been done. All of this makes it possible for machine manufacturers to perfectly adapt automation systems directly to the needs of the machine without having to make compromises along the way.



A new series of compact controllers

B&R has developed a whole new series of hardware components that further enhances the interoperability and scalability of automation systems. New compact controllers with integrated I/O have been added to the extremely successful X20 series of controllers. The proven Power Panel product series is also being upgraded to include several new touch screen systems – with and without controller functionality – that will also be introduced in Nuremberg.



Groundbreaking cycle times using standard technologies

This year's SPS IPC Drives trade show is also the perfect venue for B&R to unveil reACTION – innovative technology that reduces cycle times to unprecedented levels. This new approach allows extremely time-critical subprocesses to be implemented using standard hardware – all within the requirements of IEC 61131 – while reducing not just the load on the controller, but overall costs as well.



New version of the APROL process control system

B&R will also be introducing Nuremberg and the world to the latest version of its process control system – APROL R 4.0 – in addition to its many new features. Sharing the spotlight will be EnMon energy monitoring and ConMon condition monitoring solution packages from APROL, both of which are the perfect choice for use in factory automation. With APROL, machine manufacturers not only can expand their core competencies, but also offer factory owners and operators the resulting added value. Another solution package, APROL APC (Advanced Process Control), includes various components such as a 10x10x10 model predictive controller for providing simple solutions to complex control tasks.



These and other amazing innovations from all areas of automation – from simulation-based mechatronic software development and high-end PC-based systems to drive technology and mobile automation – will be on display at the B&R booth. 



When publishing this press release, please send a sample copy to:

B&R Industrial Automation Corp.

Attn: Yvonne Eich, Marketing & Communications Coordinator

1250 Northmeadow Parkway, S-100

Roswell, GA 30076



B&R company profile

B&R is the world's largest and most successful private company in the area of automation equipment manufacturing. The motto "Perfection in Automation" has provided the foundation for the company since B&R was founded in 1979. Today, B&R employs 2,400 employees worldwide and has an exceptional global presence with 168 sales offices in 68 countries.



As a global leader in industrial automation, B&R combines state-of-the-art technology with advanced engineering to provide customers in virtually every industry with complete solutions for machine and process automation, motion control, HMI and integrated safety technology. With industrial fieldbus communication standards like POWERLINK and openSAFETY as well as the powerful Automation Studio software development environment, B&R is constantly redefining the future of automation engineering.



B&R Industrial Automation, Inc. North America, based in Atlanta, GA, has been working closely with its customers since 1987. Since then, B&R North America has continuously grown as a sales and support organization through both direct sales offices and B&R's unique Automation Partner distribution network. Today, B&R North America has a network of more than 20 offices throughout the USA and Canada and is there for its customers locally.   For more information, please visit www.br-automation.com.

More from Architectural & Civil Engineering Products