New Die Design for Multi-Layer Fluid Coating Makes Changing Die Gaps Easier, More Accurate, and Less Prone to Human Error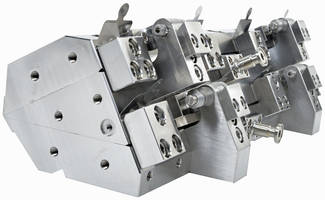 Nordson Innovation Makes the Economic and Productivity Benefits of Multi-Layer Slot Dies More Accessible by Eliminating Calculation in Use of Shims to Achieve Lip Face Alignment
CHIPPEWA FALLS, WI, U.S.A., March 6, 2017: A new, patent-pending design for dual- or multi-layer versions of Nordson Corporation's Premier™ and Ultracoat™ fluid coating dies makes it easier to achieve parallel alignment of the lip faces, which is critical for maintaining uniform, defect-free coating and preventing impingement of the lips against the roll.
In the standard design for Premier fixed-lip and Ultracoat adjustable-lip slot dies, operators make changes to the die gap - and thus the wet film thickness of the coating - by inserting thin metal strips, or shims, between the die bodies, then using more shims at the rear of the die to eliminate the resulting offset of the lip faces and ensure that they are once again in the same plane. Until now, use of these "offset shims" has been more complicated in multi-layer dies, requiring calculations to determine which shim thickness most closely achieves lip face parallelism. The new design makes such calculation unnecessary, ensures a more precise lip face alignment, and prevents human error.
Nordson has achieved this improvement by reconfiguring the die bodies of multi-layer Premier and Ultracoat systems so that the offset blocks, where the offset shims are inserted, are now in the same plane as the lip face (see schematic). As in the past, body shims and offset shims are available in thicknesses ranging up to 0.060 in. (-1.524 mm). With the new design, the accuracy of the offset adjustment is independent of body shim thickness.
"Nordson's new design for multi-layer dies makes it easier for web converters to achieve the substantial cost savings and productivity benefits obtained by applying multiple fluids in a single pass," said Keith Wheeler, business unit director for fluid coating systems. "Besides being more accurate and user-friendly, the new design for multi-layer dies eliminates the cause of lip misalignment and helps to prevent the costly damage to both die and roll that can result from simple human error in calculating the lip offset."
Replacing multiple coating passes with a single product run means an increase in output and a reduction in machine use, energy consumption, and scrap. Additional cost savings result from control over the thickness of each layer, preventing over-use of expensive high-functionality fluids. At the same time, the converter has the flexibility of returning to single-layer production simply by closing the feed valve to the flow channel that is not in use.
Nordson Corporation engineers, manufactures and markets differentiated products and systems used for the precision dispensing of adhesives, coatings, sealants, biomaterials, polymers, plastics and other materials, fluid management, test and inspection, UV curing and plasma surface treatment, all supported by application expertise and direct global sales and service. Nordson serves a wide variety of consumer non-durable, durable and technology end markets including packaging, nonwovens, electronics, medical, appliances, energy, transportation, construction, and general product assembly and finishing. Founded in 1954 and headquartered in Westlake, Ohio, the company has operations and support offices in more than 30 countries. Visit Nordson on the web at http://www.nordson.com.
Nordson Polymer Processing Systems provides customers with engineered components to melt, homogenize, filter, meter, and give shape to plastic and fluid coating materials. Nordson Corporation leverages the collective plastics industry experience from a series of strategic acquisitions to offer a uniquely broad portfolio of industry-leading technologies. Nordson delivers a full range of precision melt stream products - from screws and barrels for extrusion and injection molding - to filtration systems, pumps, and valves - to the extrusion dies and pelletizing systems to meet the constantly evolving needs of the polymer industry.
Nordson Corporation provides customers with local technical sales, service and remanufacturing capabilities through sales organizations and regional manufacturing facilities in over 30 countries. To learn more visit us at http://www.nordsonpolymerprocessing.com.
More from Electrical Equipment & Systems