New DH and D Systems for Quality-Enhancing and Energy-Saving Processes
Press Release Summary: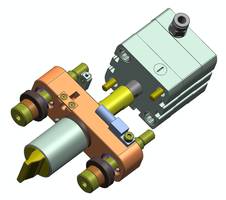 DH-System designed for dynamic temperature control of injection molds
D-System for in-situ measurement of thermohydraulic processes
Used as a quality assurance tool for sampling pilot and pre-series
---
Original Press Release:
With Less Energy to Higher Injection Molding Quality
Hotset puts two innovative technology solutions in the center of its presence at the K trade fair
In addition to expanding its range of temperature sensors and heating elements, hotset is pushing ahead with the development of pioneering system products for use in plastics and fluid technology. As concrete examples, the company will be showcasing the latest versions of its DH-System for dynamic temperature control of injection molds and its D-System for in-situ measurement of thermohydraulic processes in liquids at temperatures of up to 180°C at K in Düsseldorf (Oct. 19-26, 2022). Both solutions promote the realization of quality-enhancing, sustainable and energy-saving processes.
How can quality improvements, resource conservation and energy efficiency be brought down to a common denominator? Mold makers in injection molding technology and professionals in fluid technology who are investigating this question will find answers at this year's K at booth A20 in Hall 1. hotset, also known as a manufacturer of because here, heating elements and temperature sensors – showcases two technology innovations, that cover all three aspects. These are the latest versions of the Dynamic Heat system (formerly Z-System) for dynamic temperature control of injection molds and the D-System for instant analysis of thermohydraulic processes in fluid circuits. "At K, we will not only present the function of these technology solutions, but will also use specific examples to illustrate how they can be used to establish both quality-enhancing and energy-saving processes in injection molding technology", says hotset Sales Manager and authorized signatory Sven Braatz.
Internationally on the road to success
With the DH system, hotset offers mold makers in injection molding technology a high-speed process for partial-cycle temperature control, which on the one hand avoids visual defects (visible weld lines, dull halos, etc.), but on the other hand allows filigree fine structures and very thin wall thicknesses to be realized. Synchronized with the injection molding process, the cavities can thus be heated and cooled selectively or in sections at a rapid heating rate of up to 60 K/s – enabling very fast temperature changes in short cycles. Manufacturers of injection molded parts for the consumer and automotive industries can thus improve the surface quality of their products and open up new prospects for lightweight construction and miniaturization. In addition to renowned machine manufacturers in the injection molding industry, INCOE has now also integrated the concept of partial temperature control into its portfolio. "We are making this strategic partnership with one of the leading hot runner manufacturers public for the first time at K." The company offers the DH system – slightly modified – under the name Heat-Inject, using its hot runner technology as a platform for integration into the injection mold "In this way, using both sales networks, we can further establish our expertise in temperature control technology in the market", explains Sven Braatz.
In addition, hotset will demonstrate at its booth on a running injection molding machine with a sample mold that the performance of its system solution extends far beyond the limits of variothermal temperature control. "The DH-System acts faster, more accurately and more economically. Whether heating rate, energy consumption, performance, cycle time or safety – it is ahead everywhere. Compared to the variothermic method, it is much more productive, economical and sustainable. It uses 50 times less energy in the heating phase alone", emphasizes Sven Braatz.
Premiere: New measuring module for up to 180°C
The second trade fair highlight from hotset, the D-System for monitoring thermohydraulic events in media circuits, also serves both quality assurance and the implementation of sustainability criteria. It will be presented at K in the standard version for measuring fluids with temperatures of up to 85°C and, for the first time, in the new HT version for monitoring fluids with temperatures of up to 180°C. Both versions are mobile and provide injection molders with all the data they need to evaluate their water circuits – and, based on this, enable optimization of temperature control in terms of energy and fluid technology. The D-System records the flowing water volume, the supply and return temperature ∆T as well as the supply and return pressure ∆P – and provides information on how much energy is withdrawn from or added to the water circuit during operation. "In the new HT version, the system is also suitable for high-temperature applications such as are typical in the production of thermoplastic molded parts with higher optical requirements", adds Sven Braatz. In some places, the D-System from hotset is also part of the equipment of mobile service teams or it serves as a quality assurance tool for sampling pilot and pre-series. Some injection molders producing for medical technology are now using it for product validation.
Contact This Company Download Spec Sheet
More from Agricultural & Farming Products