Motion Sensors / Detectors / Transducers
New Decora® Manual-On Occupancy Sensor Features Versatile Control Options and Interoperability with Other Leviton Lighting Controls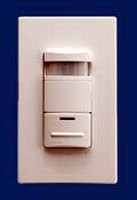 Little Neck, NY, November 8, 2006 -- Leviton's newly redesigned Decora® Manual-ON Occupancy Sensor (Cat. No. IPP15) adds to the control capabilities of the company's earlier Decora® Manual-ON Occupancy Sensor (Cat. No. IPP10) with its higher 15 Amp rating and the ability to interoperate with other of Leviton's distinctively styled lighting control products. Like the IPP10, once manually switched ON, the IPP15 monitors a room or area for occupancy and automatically switches lighting OFF once it no longer detects occupancy.

Complying with California Title 24 requirements, the IPP15 not only functions as a single-pole occupancy sensor, but also affords true 3-way and multi-location control capabilities. These additional control capabilities are ideal for conveniently controlling lighting in large rooms, those with two entrances, and those which because of their design, a single sensor can not provide adequate detection and control capabilities.

"These days, it's nearly impossible to pick up a newspaper or drive by a gas station and not be reminded of the costs and consequences of increased energy consumption," notes Selin Glickman, Director of Marketing Management, Lighting Controls for Leviton. "Replacing light switches with occupancy sensors that automatically turn lights OFF once they are no longer needed is so effective at saving energy that it's one of the solutions mandated by California's Title 24 energy standard for new home construction. By adapting advanced commercial lighting control technology into an elegant, low-profile residential device, Leviton makes 'energy savings' a household phrase in the truest sense. Considering today's spiraling energy prices, this technology pays for itself very quickly."

Ideal for bathrooms, hallways, garages, basements, dining rooms, utility rooms or any area of the home where residents may forget to switch lights OFF, the IPP15 installs in place of a single-pole or 3-way wall switch, and is gangable with other Leviton Decora devices. The IPP15 can be used with a Matching Sensor Remote (Cat. No. IPP0R) in large or L-shaped rooms, where the detection capabilities of a single sensor is typically inadequate. It can also be used with Leviton's Vizia(TM) Switch Remote (Cat. No. VZ0SR) to provide coverage for rooms with two entrances, where a single sensor cannot provide adequate detection coverage. The IPP15 can also be paired with a Matching Sensor Remote for 3-way installations and with any of Leviton's stylish Vizia dimmers to afford the combined benefits of energy efficiency and lighting control comfort.

The IPP15's enhanced 15 Amp rating enables control of up to 1800 watts of incandescent, low voltage or fluorescent lighting. New screw terminals provide fast, easy installation into any standard wallbox. An LED locator light makes it easy to find in darkened areas. To maximize energy savings, the IPP15 features an optional manual adjustment for delayed-OFF time settings of 30 seconds, 5 minutes, 15 minutes and 30 minutes.

Leviton's new IPP15 is UL Listed, CSA Certified and compliant with California Title 24 Energy Code and FCC regulations. California Title 24 requires new homes built after October 1, 2005 to be wired with high-efficiency lighting components such as fluorescent, compact fluorescent and high intensity discharge lamps, a Manual-ON/Automatic OFF occupancy sensor switch or a dimmer switch, depending on the room type or area of the home.

For more information, contact Leviton Manufacturing, 59-25 Little Neck Parkway, Little Neck, and NY 11362, www.leviton.com.

More from Laboratory and Research Supplies and Equipment