New DCM20 Series Panel Meters Come with Contactless Touch-Sensor Function Selector Switch
Press Release Summary: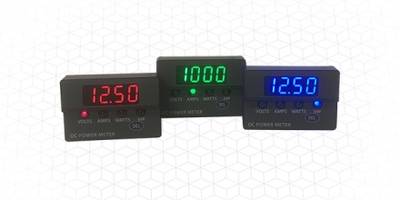 Murata's DCM20 Series DC Panel Meters are designed for use in 12V, 24V or 48V systems. Units provide ±1% (voltage) and ±2% (current) accuracy. Meters are offered in one-piece polycarbonate housing that fits 0U and 1U rack and feature internal self-resetting fuse. Units offer input voltage ranging from 0.5 to 72 VDC with resolution of 10 mV and are suitable for laboratory instrumentation, industrial, telecom equipment and marine power markets. Unit supports high-side and low-side current monitoring.
---
Original Press Release:
Multifunction DC Panel Meters from Murata Power Solutions Display Voltage, Current and Power up to 96kW
Murata introduces the new DCM20 series of multifunction panel meters from Murata Power Solutions. For DC systems, these meters measure DC voltage and current, calculate power up to 96 kW, and display values either manually selected or continuously cycling. The miniature panel-mount product provides an input voltage range of 0.5 to 72VDC, with 10mV of resolution. The meter also supports current measurement ranges from 5A to 1200A when used with an external user-supplied resistive shunt. Targeted for use in 12V, 24V or 48V systems, out-of-the-box accuracy of the product is +/-1 % for voltage and +/-2 % for current.
Features
Supports both high-side and low-side current monitoring
Long-life contactless touch-sensor function selector switch
Low current consumption (< 10 mA at 12 VDC)
Internal self-resetting fuse
One-piece polycarbonate housing fits '0U' & '1U' racks
Compact surface mount design occupies minimal panel space
Bright LED-display with four function annunciators
Choice of red, green or blue display
Benefits
Fewer maintenance issues than competitive devices with membrane switches
Can be used in a wide range of DC current/power monitoring applications
Can be used in both low and high power applications
User can compensate for inaccuracies arising from the current shunt
Provides higher readability than meter products with LCD displays
Applications
Laboratory instrumentation
Industrial
Telecom equipment
Large battery management
Marine power markets