New Data Logger Enables User to Analyze Information for Preventive Maintenance
Press Release Summary: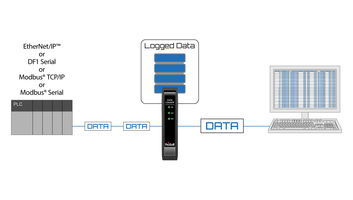 ProSoft Technology's Data Logger provides historical diagnostic information about equipment performance for the user. Unit can store up to 16 million records of equipment's diagnostic data that allows user to analyze information. Logger enables the user to check whether machine is operated beyond its parameters. Unit allows user to troubleshoot and pinpoint issues in the site from office.
---
Original Press Release:
ProSoft Technology's Data Logger Can Help Users Pinpoint Issues in the Field from Their Office
Bakersfield, Calif., June 6, 2018 – Any end user, OEM, or system integrator that has had to go to a remote site for an issue that requires troubleshooting are familiar with the struggle: They arrive, then have to attempt a diagnosis before finally being able to fix the problem.
ProSoft Technology's new Data Logger allows users to see historical diagnostic information about their equipment's performance before they leave the office. The module enables this time-saving problem-solving by storing the equipment's diagnostic data for the user, accommodating over 16 million records without putting a strain on the user's network bandwidth. The module's capabilities also enable the user to analyze their information for preventative maintenance.
The Data Logger can also serve as a type of warranty protection for OEMs, allowing them to see if their machine has been operated beyond its parameters without their knowledge.
Learn more about ProSoft Technology's Data Logger here!
ProSoft Technology: Where Automation Connects
ProSoft Technology provides solutions to help our customers increase production, reduce downtime, and lower operating and maintenance costs worldwide. Our solutions focus on Connectivity, Optimization, Modernization, and Migration challenges, and are at the center of the Industrial Internet of Things. We supply industrial communication solutions that enable dissimilar automation control equipment to share information and transfer critical control data through wired and wireless connectivity.
For more information:
Lauren Robeson
Global Communications Specialist
ProSoft Technology
9201 Camino Media, Suite 200
Bakersfield, CA 93311
Ph: +1 (661) 716-5287
Fax: +1 (661) 716-5101
lrobeson@prosoft-technology.com
More from Chemicals & Gases