New Dara HSL-PP/4 Aseptic Filling and Closing Machine Comes with Servo-Driven Automation
Press Release Summary: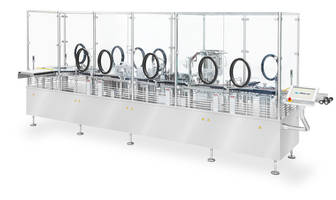 Dara HSL-PP/4 Aseptic Filling and Closing Machine is embedded with data recording software and features 304 stainless steel frame and an electro-polished 316 stainless steel for direct/indirect product contact part. Unit fills liquids and powders into glass or plastic vials with volumes from 0.1 to 250 ml (liquids) and 2 to 1500 mg (powders). The machine is equipped with eight checkweighing cells for detecting the levels and runs up to 200 vials per minute. Unit allows operator to program production parameters into the PC.
---
Original Press Release:
NJM Introduces Dara HSL-PP/4 High-Speed Aseptic Filling and Closing Machine for Vials
Accurate and Versatile Biopharmaceutical Packaging for High-Capacity Lines
MONTREAL, JUNE 27, 2018 – NJM, a ProMach product brand, introduces the Dara HSL-PP/4, a high-speed aseptic filling and closing machine for vials, at Healthcare Packaging Expo Booth #W-703. Running up to 200 vials per minute using four heads at each station, this system offers 100 percent in-process weight control, low maintenance, simple changeovers and extreme flexibility.
"The HSL-PP/4 is part of Dara's fastest vial-filling family. It's a great achievement for Dara and offers the best technology available today," said Thomas Kessler, Regional Sales Manager at NJM. "This top-of-the-line equipment is ideal for pharma and biopharma manufacturers and contract packers, especially those looking to maximize throughput on high-capacity, high-changeover lines."
Featuring fully servo-driven automation, the intermittent-motion Dara HSL-PP/4 fills injectable liquids and powders into glass and plastic vials with volumes from 0.1 to 250 ml for liquids and 2 to 1500 mg for powders. It can be equipped with stainless steel or ceramic rotary piston pumps to achieve +/- 0.5 percent accuracy or with peristaltic pumps to achieve +/- 1 percent accuracy. New product changeovers can be completed in 15 minutes with no tools required.
To meet the needs of each application, the HSL-PP/4 is capable of filling in a variety of ways – with nozzles lowered to the bottom of the containers, half way up or from above. The stopper can be fully or lyo-depth inserted, followed by aluminum or flip-off cap application. Optional vacuum-assisted stopper insertion reduces the oxygen in the headspace. The closing station features a servo-driven tangential rolling head to minimize particulate generation and maximize sealing results. No bottle / no fill / no stopper safety sensors limit errors.
To achieve 100 percent in-process quality control, the HSL-PP/4 features eight checkweighing cells to detect fill levels as well as inspection systems for missing stoppers and raised stoppers. A vacuum starwheel reject device achieves positive container handling, ensuring out-of-tolerance vials are accurately removed at top operating speed and no good products are rejected.
For sterile or clean room applications, the HSL-PP/4 can be equipped with a laminar air flow (LAF), open or closed restricted access barrier system (oRABS/cRABS) or a high containment isolator system. Optional clean-in-place (CIP), sterilization-in-place (SIP) or gas flushing are also available. Optional particle monitoring systems further support final product quality.
Ancillary equipment from Dara, such as automatic or manual denesting units, adapts this machine for ready-to-fill vials. Trays can be manually fed to the HSL-PP/4, or the system can be integrated with an upstream washer and depyrogenation tunnel for continuous automated feeding. An integrated rotary table single files vials for presentation to the filling heads. Bags of stoppers are loaded into a vibratory hopper/circular feeder that delivers stoppers to a pick-and-place station that inserts the stoppers. Filled and closed vials are directed to output trays for manual unloading, or they can be integrated with downstream equipment.
Fully servo-driven, the HSL-PP/4 provides repeatable performance, low maintenance, simple troubleshooting, fast changeovers and easy adaptability to future applications and new package formats such as adding new vial sizes. An Allen-Bradley PLC controls machine functions and a Beckhoff PC-based 12-inch (30 cm) color touchscreen presents a large and intuitive user interface. All production parameters can be programed into the PC, including dosing volumes, dosing speeds, kinematics of the filling system, adjustment of automatic feeders and output. 
The HSL-PP/4 is equipped with data recording software to export the production data in compliance with 21 CFR Part 11. Designed in compliance with cGMP, the HSL-PP/4 features 304 stainless steel frame and electro-polished 316 stainless steel for direct/indirect product contact parts that meet FDA approval for use with pharmaceutical and biopharmaceutical products.
Dara's HSL family includes their highest speed aseptic filling and closing machines. These extremely flexible solutions can be designed and built to run vials and/or syringes, as well as ready-to-use containers, ophthalmic bottles or large-format parenterals. The fastest HSL system, the HSL-PP/8, features eight heads at each station to run up to 400 packages per minute.
NJM offers a "total solution" approach that includes full IQ / OQ validation support and turnkey line integration services to seamlessly combine best-in-class technologies. NJM's world-class aftersales support includes standard and extended warranties, preventative maintenance programs and onsite installation, training and ongoing service.
About NJM
The world's proven, trusted, single-source provider of automated packaging machinery for pharmaceutical, nutraceutical and personal care products, NJM offers both stand-alone solutions and integrated systems for packagers of solid dose and liquid pharmaceuticals, biopharmaceuticals, vitamins and food supplements. As part of the ProMach Pharma business line, NJM helps our customers protect and grow the reputation and trust of their consumers. ProMach is performance, and the proof is in every package. Learn more about NJM at www.NJMPackaging.com.
About ProMach
ProMach is a family of best-in-class packaging solution brands serving manufacturers of all sizes and geographies in the food, beverage, pharmaceutical, personal care and household and industrial goods industries. ProMach brands operate across the entire packaging spectrum: filling and capping, flexibles, pharma, product handling, labeling and coding and end of line. ProMach also provides Performance Services, including integrated solutions, design/build, engineering services and productivity software to optimize packaging line design and deliver maximum uptime.
ProMach designs, manufactures, integrates, and supports the most sophisticated and advanced packaging solutions in the global marketplace. Its diverse customer base, from Fortune 500 companies to smaller, privately held businesses worldwide, depends on reliable, flexible, technologically advanced equipment and integrated solutions. ProMach is headquartered near Cincinnati, Ohio, with manufacturing facilities and offices throughout the United States, Canada, Mexico, Brazil, Europe, United Arab Emirate and China. For more information about ProMach, visit www.ProMachBuilt.com.
Media Contact:
Marla Labreche-Stallmann | Marketing Manager
NJM Packaging
Marla.Stallmann@ProMachBuilt.com
+1 603 448 3941
Related