New D1 High Power Axial Piston Pump is Designed for Extreme Application Environments
Press Release Summary: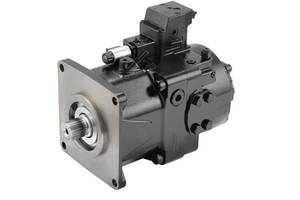 D1 Open Circuit High Power Axial Piston Pump is suitable for offshore, marine, and oil and gas markets. Unit comes with four displacement options in 130-260cc, pressure, load sense, power limiting and displacement controls. The pump delivers an output pressure of up to 350 bar continuously and 420 bar intermittently. Unit with integral charge pump allows it to run at speeds up to 2500 rpm.
---
Original Press Release:
The D1 Pump from Danfoss Power Solutions Makes its North American Debut at OTC
Danfoss Power Solutions unveiled its D1 Open Circuit High Power Axial Piston Pump to the North American market during the Offshore Technology Conference in Houston, Texas, April 30-May 3, ahead of its formal release in June.
The D1 pump is a high-pressure, high-performance variable axial piston pump developed specifically for open-circuit systems in the most extreme application environments — making it an ideal solution for the offshore, marine, and oil and gas markets.
"This pump was designed for the harshest applications so it can meet our customers' toughest needs," said Juston Lisk, market manager for marine, oil and gas at Danfoss Power Solutions. "For both the offshore and onshore industry, dependability and reliability are key. The new D1 pump from Danfoss delivers on those aspects."
The addition of the D1 pump expands the Danfoss open circuit pump portfolio to include higher hydraulic power product options for customers. It's designed to work seamlessly with the new PVG 128/256 high flow valves, providing OEMs a full hydraulic system portfolio.
The D1 pump will be offered with:
Four displacement options from 130-260cc
Pressure, load sense, power limiting and displacement controls
Output pressure up to 350bar [5000psi] continuously, 420bar [6100psi] intermittently
An integral charge pump allows the D1 pump to run at speeds up to 2500rpm
Global expertise, local support
While the D1 pump was developed and designed with global expertise, customers will also benefit from the strong local service provided by Danfoss. Danfoss offers technical support through its wide network of local distributors in every state in the U.S. and in more than 100 countries.
Furthermore, since the D1 pump is currently available in European and Chinese markets, its reliability is already established and trusted in the field. The D1 pump is ideal for applications such as offshore or cargo-handling cranes, pipe handling systems, power catwalk, artificial lift systems, fracking equipment and more.
The pump will be available to North American customers in June 2018.
For media information and photos:
Americas and Europe:
Nikoline Herzog                                 Danfoss Power Solutions                    Phone: +45 7488 3955
                                                                Nordborg, Denmark                        nherzog@danfoss.com
Asia-Pacifiic:
Kentaro Ide                                         Danfoss Power Solutions               Phone: +81 6 6395 6066
                                                                Osaka, Japan                                   kide@danfoss.com
Related links:
Danfoss engineers advanced technologies that enable us to build a better, smarter and more efficient tomorrow. In the world's growing cities, we ensure the supply of fresh food and optimal comfort in our homes and offices, while meeting the need for energy-efficient infrastructure, connected systems and integrated renewable energy. Our solutions are used in areas such as refrigeration, air conditioning, heating, motor control and mobile machinery. Our innovative engineering dates back to 1933 and today Danfoss holds market-leading positions, employing more than 26,000 and serving customers in more than 100 countries. We are privately held by the founding family. Read more about us at www.danfoss.com.
Related