New Cyber-Security and Access ID Biometric Card is Activated By Fingerprint of the Person
Press Release Summary: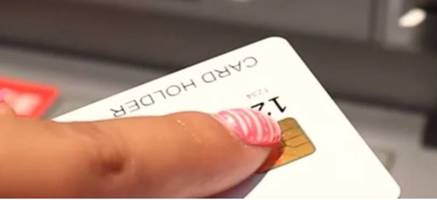 SmartMetric's Cyber-Security and Access ID Biometric Card uses secure FIPS approved smartcard chip and a short distance radio frequency transmitter for access to doorways and building. The card features a built-in rechargeable battery and an advanced electronic componentry mounted on the circuit board. It comes with bright Green and Red LED light that provides biometric verification.
---
Original Press Release:
SmartMetric to Release World First Combined Cyber Security and Access ID Biometric Card
NEW YORK, Sept. 20, 2018 (GLOBE NEWSWIRE) -- SmartMetric, Inc. (OTCQB:SMME) - SmartMetric is on-track to complete production of its world first dual purpose cyber-security and access ID biometric card at the end of September.
The new dual purpose security card is based on the advanced super micro electronic parts and circuitry developed by SmartMetric for its range of contact and contact/contactless chip credit/debit cards. Instead of using a banking smart card chip the Cyber/Access biometric card uses a secure FIPS approved smartcard chip along with a short distance radio frequency transmitter for doorway and building access.
Like the SmartMetric biometric payment credit/debit card, the card is activated by the person's fingerprint. Simply by touching the card's surface the card performs an instant (sub 1second) fingerprint scan and match and then turns on the card's electronics. Allowing the card to send a signal for doorway access and cyber computer network access.
"Combining both cyber access and secure access into the one card has required a tremendous effort from our engineering team who are based in Tel Aviv, Israel. This has also required continued advances in our super thin electronic component development to create such an advanced multi-function biometric card as thin as a credit card. Yes, size does matter when you are wanting to have an all purpose biometric card solution that can easily fit in a user's wallet or purse," said today SmartMetric's President & CEO, Chaya Hendrick.
Having a biometric cyber security solution that can perform both biometric secured corporate and government computer access while also being able to be used for secure building access in the one card does away with the need for two separate cards for a lot of employees. In addition, the SmartMetric Biometric Security Card also has a bright Green and Red LED light that can be used to provide biometric verification when the card is being used additionally as an ID card.
"We have distributors who have customers awaiting release of our new multi-function Biometric Security card and based on market reaction so far we are very excited about our near term sales success for this important new product," said Chaya Hendrick.
The SmartMetric Biometric Security Card has a built-in rechargeable battery along with advanced miniature electronic componentry mounted on an extremely thin electronic circuit board. As with the other SmartMetric biometric card products they have all been developed by the company and its team of advanced electronics engineers.
Access management market is estimated to grow from USD 8.09 billion in 2016 to USD 14.82 billion by 2021, at a CAGR of 12.9% between 2016 and 2021, according to a recent research report by KBV Research.
The company also makes a biometric fingerprint activated credit card. This allows banks to issue a biometric card that satisfies the growing demand by card customers for a stronger more secure credit card. The SmartMetric biometric credit card works with chip cards. There are more than 6 billion chip cards now issued by banks around the world.
To view the SmartMetric Biometric Card please follow this link - Video of the SmartMetric Biometric Card. To view the company website: www.smartmetric.com
Contact Information
USA REPRESENTATIVE
Protec Secure Card, LLC 
80 Corbett Way 
Eatontown, NJ 07724, USA
+1-732-542-0700 
Sales: Tracey Breckenridge
www.protecsecurecard.com
SOUTH AMERICA
GPC S.A.
Eduardo Voloschin
President
Los Patos 2526 (C1283ACD), 
Distrito Tecnológico
Ciudad Autónoma de Buenos Aires, 
Argentina
T +5411 49434878 |
M eduardo.voloschin@gpc-sa.com.ar
www.gpc-sa.com.ar
GRUPO DATCO
San Martin 1004
Buenos Aires, Argentina
Contact
Adrian Carnevante – Director
+54 (9)11.4103.1300
SmartMetric, Inc. 
Head Office
3960 Howard Hughes Parkway,
Suite 500
Las Vegas, NV 89169
+1.702.990.3687 
chaya@smartmetric.com
www.smartmetric.com
Investor Relations
Steffan Dalsgard
Everest Corporate Advisors, Inc.
+1.702.334.7791
+1.415.250.0105
More from Material Handling & Storage