New Custom-configuration Weather Monitoring Systems for Operational Safety and Efficiencies
Press Release Summary: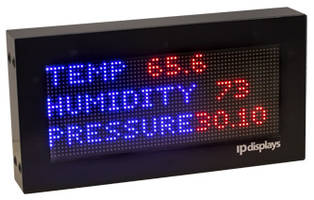 Standalone relative humidity/temperature transmitters with 4-20mA interface for indoor and outdoor applications
Available with readerboards compatible with all CWS weather stations
Built to order with a choice of all-in-one or modular sensor configurations and monitoring via proprietary weather display console and computer software
---
Original Press Release:
Custom Configurations Enhance Weather Monitoring Systems for Industry and Government Agencies
Columbia Weather Systems is pleased to announce three new product offerings with additional integrated met sensor and monitoring options in response to customer requests. These new offerings are useful to industries and government agencies who monitor weather conditions for operational safety and efficiencies. Custom-configuration of weather station systems is critical to meeting the specific requirements of different industries and installation locations. 
Infrared Road Surface Temperature
For the City of North Liberty, Iowa, an infrared road surface temperature sensor was integrated with an Orion 533 weather station with rainfall, wind speed and direction. Mounted on an intersection traffic signal pole, the sensor monitors road surface temperature remotely by measuring the infrared radiation emitted by the surface. "In winter...being able to monitor the air temp/road temp in real time helps determine how best to treat the roads with either salt brine or road salt," said Dan Lange, Assistant Street Superintendent. "Depending on the season we are looking at different parameters," Lange noted. "In the spring/summer I like the rain rate (for flash flooding) and wind gust. You can watch these rates and get a pretty good idea for severity and compare from previous events."
Standalone Relative Humidity/Temperature transmitters with 4-20mA interface are now available for easy-to-install indoor and outdoor applications. Both unit options offer two 4-20mA outputs for temperature and relative humidity readings.
These transmitters combine easy installation and minimal maintenance with accurate, reliable measurement. Customer applications include industrial automation, agricultural, and electrical power generation.
Readerboard Display Option
An outdoor display for weather station data offers a daylight bright readout utilizing IP65-rated LEDs in a weather-sealed enclosure. These "intelligent" readerboards are available in a variety of sizes with customizable messaging for indoor or outdoor use. Readerboards are compatible with all CWS weather stations. Data from the sensors is processed through either the Weather MicroServer or Weather Display console and pushed to the readerboard. Applications include transportation, facility management, public safety, and mobile weather labs.
Columbia Weather Systems manufactures a variety of weather monitoring options for industry and government applications in Hillsboro, Oregon. Each weather station is built to order with a choice of all-in-one or modular sensor configurations, and monitoring via proprietary Weather Display Console, computer software such as WeatherMaster™, or the Weather MicroServer™ with Internet-ready data and industrial interfaces.
Columbia Weather Systems
ColumbiaWeather.com
503-629-0887
More from Controls & Controllers