New Cushion Grip Denture Adhesive is Zinc-Free and Non-Toxic
Press Release Summary: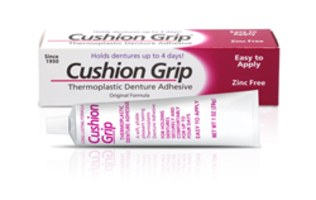 The Cushion Grip™ Thermoplastic Denture Adhesive is offered in 1 oz tube and is manufactured from thermoplastic polymers that are heat activated and 100% waterproof. The product on one application can hold dentures for up to 4 days.
---
Original Press Release:
USpharma Reintroduces Cushion Grip™ Original Formula to U.S. Market
Professional Strength Thermoplastic Denture Adhesive Returns to Retail On Consumer Demand for Product
MIAMI LAKES, FLA. (PRWEB) JANUARY 14, 2019 - USpharma Ltd announced today it has started manufacturing and distributing Cushion Grip, Thermoplastic Denture Adhesive, to the U.S. market. Bayer Consumer Care AG and its affiliates (collectively "Bayer") have sold, assigned, and/or licensed Bayer's multinational product rights concerning the CUSHION GRIP brand to USpharma. Since first being introduced in 1950, Cushion Grip was consistently a favorite consumer product for denture wearers due to its long lasting 4-day secure hold, and cushioned softness. The product was manufactured and distributed in the U.S. through 2014.
A passionate and loyal fan base kept the Cushion Grip product alive via social media and blogs. YouTubers made videos pleading for the return of Cushion Grip to mass merchandisers and drug store retailers, which lead to a petition being launched on Change.org to bring the product back with close to 500 signatures. After ceasing manufacturing operations in 2014, the limited available supply of product drove resellers' prices on eBay and Amazon to hundreds of dollars per 1 oz tube, but nevertheless, the sales continued.
Cushion Grip, known for its ability to hold dentures securely four times longer than ordinary dental cream adhesives, is manufactured at USpharma's state-of-the-art facility in Florida using thermoplastic polymers that are heat activated and 100% waterproof. Cushion Grip is packaged in a 1 oz tube, zinc-free, and completely non-toxic. Manesh Dixit, Ph.D., CEO of USpharma, stated "[w]e are delighted to manufacture and distribute this iconic brand of denture adhesive in its original formula to the 30 million wearers of denture plates in the U.S. We have launched online sales through Amazon and are ready to ship to U.S. retailers. We have positioned ourselves to reenter the denture adhesive category as a premium alternative to value brands such as Fixodent, Poligrip, and Sea-Bond."
Cushion Grip Thermoplastic Denture Adhesive is currently available in a 1 oz tube. One application holds dentures for up to 4 days. Manufacturer suggested retail price is $19.99. https://www.mycushiongrip.com/
About USpharma Ltd. 
Based in Miami Lakes, Florida, USpharma Ltd. is a manufacturer and distributor of both branded and generic pharmaceutical products as well as consumer health goods. The company is the exclusive manufacturer and distributor of Cushion Grip Thermoplastic Denture Adhesive. USpharma is focused on developing consumer health OTC products as well as prescription products in various therapeutic areas and dosage forms for both the U.S. and international markets.
Contact Information
Marisela Medrano
USpharma Ltd
+1 (305) 698-4600 Ext: 4672
More from Computer Hardware & Peripherals