New CT4098 Series BNC Cable Assemblies are Constructed with Bend-Relief Boots
Press Release Summary: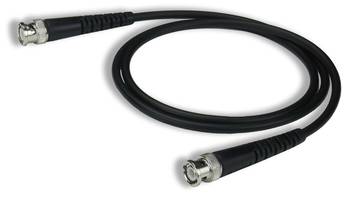 CT4098 Series BNC Cable Assemblies are available in CT4098-25, CT4098-50 , CT4098-100 , CT4098-120 , CT4098-150 and CT4098-200 models with 25, 50, 100, 120, 150 and 200 cm lengths respectively. Units feature an insertion loss of 0.8 dB/m (1 GHz) and a VSWR of 1.20:1 (DC to 500 MHz) and 1.70:1 (500 MHz to 1 GHz). The cable assemblies are compliant to RoHS standards and provide frequency range of DC to 1 GHz.
---
Original Press Release:
CT4098 BNC Male-to-Male Cable Assemblies
Cal Test Electronics is adding to its line of test bench coaxial cable assemblies.
CT4098 is a new BNC male to BNC male assembly featuring RG223/U coaxial cable. The 50 Ω RG223/U has improved shielding and lower insertion loss over standard RG58. The assemblies are constructed with Cal Test's high quality bend-relief boots, which are molded directly to the cable and connectors, providing a clean look and long service life.
This model is available in six (6) standard lengths and is available immediately
Model Number                                         Length cm (in)                              MSRP
CT4098-25                                                   25 cm (10")                                $9.90
CT4098-50                                                   50 cm (20")                                $13.40
CT4098-100                                               100 cm (40")                                $20.70
CT4098-120                                               120 cm (48")                                $23.90
CT4098-150                                               150 cm (60")                               $28.10
CT4098-200                                               200 cm (80")                              $36.00
If you are seeking improved RF performance from your BNC cables, use Cal Test's new CT4098 BNC male-to-male cable assemblies.
For general purpose testing, look to Cal Test's CT2942, RG58C/U BNC male-to-male cable assemblies which use the same high quality construction.
Product Drawing/Datasheet 
Click here to download CT4098 Drawing
For more information, please don't hesitate to contact us. 
Tony Schmidt 
Product Marketing Manager 
aschmidt@caltestelectronics.com
About Cal Test Electronics
Since 1995, Cal Test Electronics has been serving the electronic and electrical markets with an extensive line of quality test accessories and a commitment to total customer service. We evolved for the specific purpose of providing customers with products they need to get their tasks completed. Our mission is to provide you with both a quality product and 30 years of expert knowledge so that you can remain focused on your goal. Our job is to make your testing life easier. If you are in the electronic, electrical, maintenance or process control industries, we offer the most comprehensive lines of test accessories. With over 3,000 items in 7 product categories, there is almost no test accessory challenge Cal Test cannot meet.
More from Test & Measurement