New Creamid A3H7.5G Series Compounds Evince Improved Property Retention
Press Release Summary: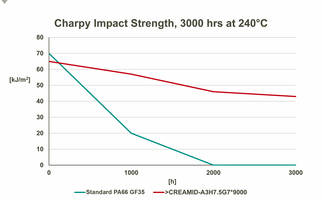 New Creamid™ A3H7.5G Series Compounds from Teknor Apex are suitable for thin-wall parts and under-hood parts. The compounds are processed at temperatures ranging from 280 to 300°C and exhibit high levels of critical mechanical properties at temperatures up to 240°C. Creamid™ provide a glass loading levels up to 60%.
---
Original Press Release:
High-Heat Polyamides with up to 60% Glass Content Allow for Metal Replacement with Custom Formulations and Processabiliy
High-Strength Creamid™ A3H7.5G Compounds from Teknor Apex Readily Fill Complex Shapes at Significantly Lower Processing and Mold Temperatures
PAWTUCKET, RI, U.S.A., April 25, 2018: A new series of ultra-high performance glass-reinforced polyamide 66 compounds bridges the cost-performance gap between standard engineering thermoplastics and high-heat specialty polymers, providing injection molders with a more economical alternative to metal or current polyphthalamides (PPAs). Teknor Apex Company will introduce the new materials at NPE2018 (Booth S22045).
"The greater design flexibility of injection molded parts and the fact that they require much less post-process machining enhances the attractiveness of metal replacement projects for OEMs," said Michael Roberts, vice president in charge of the Engineering Thermoplastics Division of Teknor Apex. "Our new materials expand the scope of metal replacement opportunities into higher-temperature use environments." 
Creamid™ A3H7.5G Series compounds provide the strength and stiffness of highly glass filled engineering polymers while maintaining high levels of critical mechanical properties even after continuous service at temperatures up to 240°C (464°F). These materials exhibit dramatically improved property retention in comparison with standard, similarly glass-filled PA 66 compounds (see graphs). At the same time, as high-flow materials, they are well suited for thin-wall parts with long flow paths, as in automotive light-weighting applications.
"Our new compounds are more cost effective than other super-high temperature polymers such as polyphthalamides (PPAs) or specialty polyamides like PA 4.6, PA 11T, PA MDX6, or PA 4T," said application engineer Johannes Finkenberger, "In addition, they allow for lower processing and mold temperatures, providing additional benefits in terms of energy consumption and tooling requirements."
These new compounds process at temperatures in the range of 280 (464) to 300°C (572°F) and with mold temperatures of 80 (176) to 110°C (230°F); the corresponding ranges for PPA or PA 4.6 are 330 (626) to 350°C (662°F) and 130 (266) to 150°C (302°F), respectively.
Creamid A3H7.5G compounds are recommended for under-hood parts in vehicles with turbo-charged engines where long-term high temperature performance is required.
The new high temperature product series includes glass loading levels up to 60%. As a custom compounder, Teknor Apex can address specific property requirements and tailor the new technology around the overall requirements of the application.
About Teknor Apex. Teknor Apex Company, a privately held firm founded in 1924, is one of the world's leading custom compounders of plastics. Teknor Apex produces flexible and rigid vinyl, thermoplastic elastomers, nylons, color masterbatches, specialty chemicals, and hoses. The company is headquartered in Pawtucket, RI, U.S.A. and operates thirteen manufacturing facilities worldwide in the United States, Belgium, Germany, China, and Singapore. To learn more visit: www.teknorapex.com.
The Engineering Thermoplastics (ETP) Division of Teknor Apex Company is an international supplier of compounds for the transportation, consumer products, and industrial markets. It produces reinforced and specially modified compounds of polyamide 6, 6/6, 6/10, and 6/12 under the Chemlon® brand; exceptionally high-performance Creamid™ and Duramid™ polyamides based on partially aromatic polymers; engineering-grade blends based on diverse resins; and specialized formulations for radiation crosslinking and electroplating.
FOR MORE INFORMATION: Europe and Americas: Tel:1-401-725-8000. Tel. from U.S. only: 1-800-237-3167. Asia: Tel: 65-6265-2544. Fax: 65-6265-1821. Global E-mail: etp@teknorapex.com.
Robert J. Martino
Martino Communications Inc.
Tel: 1-203-321-0787
Email: bob@martinocommunications.com