New CR922 Series Voltage Load Bank Comes with CR Remote Technology
Press Release Summary: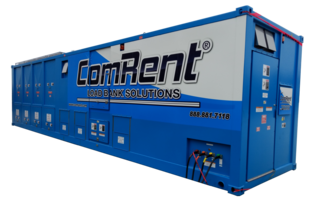 The CR922 Series Hybrid 6 MW features a direct connect load bank and built-in transformer. The device offers testing at 6 MW, 13.8 kV, 60 Hz or 4 MW and 13.8 kV at low frequencies down to 5 Hz. The CR remote technology enables operator to activate fans, control loads, select individual load banks on a tablet or laptop. This load bank can be shipped on a 53 ft trailer.
---
Original Press Release:
ComRent International Releases Hybrid Medium Voltage Load Bank
Unprecedented CR922 Hybrid 6MW features direct connect load bank and transformer in one container
BROOMFIELD, Colo., Oct. 25, 2018 /PRNewswire/ -- ComRent International, a global leader in load bank solutions for testing and commissioning of mission-critical infrastructure, today announced the CR922 Hybrid 6MW, an unprecedented direct connect medium voltage load bank that works in tandem with a built-in transformer to deliver exceptional load step resolution.
The CR922 Hybrid is a medium voltage direct connect load bank and a low voltage load bank via a step-down transformer combined in one container. As expansion to the CR922 series, this versatile load bank can offer testing @ 6MW,13.8 kV, 60 Hz or 4MW, 13.8 kV @ low frequencies down to 5 Hz. The CR922 Hybrid 6MW is ready to perform almost any test that could be required by your commissioning agent.
"ComRent strives to develop meaningful innovations that deliver the best customer experience during mission-critical load bank testing," said Doug May, Chairman and CEO of ComRent International. "With the industry's only direct connect rental and integrated built-in transformer, the new CR922 Hybrid 6MW load bank saves time, money, and is conveniently shipped on a trailer to begin testing immediately."
ComRent has equipped its entire CR922 and CR922 Hybrid fleet with CR Remote technology. Operators can activate fans, control loads, select individual load banks, or group them together; allowing a single user of all technical levels to operate effortlessly on a tablet or laptop.
Conveniently shipped on a 53' drop trailer, this hybrid model eliminates the need to unload and level the unit. Trained ComRent Technicians are available to facilitate a proper setup to maximize safety, while minimizing rental and labor costs.
To learn more about CR922 Hybrid 6MW, visit www.comrent.com.
About ComRent
ComRent International offers mission-critical customers the most comprehensive load bank and service solutions to interconnect systems faster, stay on time and budget, and reduce risk. Through ComRent's global delivering locations, 3,210-unit fleet and over 150 miles of cable, customers receive load banks faster and can confidently rely on ComRent's exceptional service and industry knowledge to do testing right the first time. Fortune 50 data centers, electrical utilities, solar and wind developers, and oil and gas companies rely on ComRent to fulfill their testing and commissioning requirements. Learn more at www.comrent.com.
CONTACT: Marcelo Gomez, Vice President of Marketing, mgomez@comrent.com
Web Site: http://www.comrent.com
More from Machinery & Machining Tools