New Corrosion Resistant Pneumatic Actuators from Hayward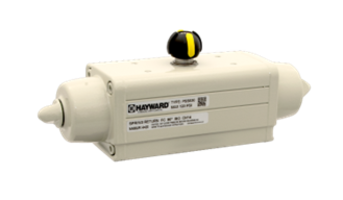 Clemmons, NC (November 14, 2022) – Hayward Flow Control is proud to announce the addition of the PS Series Scotch Yoke Pneumatic Actuators to our expanding range of actuators and controls.  The PS Series features a robust aluminum body with a three-layer Epoxy / Urethane coating for superior corrosion and abrasion resistance to handle harsh environments. With a very robust, lightweight, and extremely compact design, the PS Series also allows for ease of installation in tight spaces and less line weight where it is critical.
Internally, the PS Series employs a scotch yoke design resulting in less friction and longer life of the actuator.  The operating torque profile closely matches the torque profile of mating valves due to the scotch yoke design.  This results in a smaller volume & size assembly when attached to the valve.  Available in both double acting and spring return models, the PS Series has a torque range at 80psi supply, from 133 in-lbs/15Nm to 398 in-lbs/45Nm for double acting, and a range of 133 in-lbs/15Nm to 469 in-lbs/53Nm for spring return.  All models have NAMUR VDI/VDE 3845 mounting for solenoids and ISO5211 mounting base.
Other Key Features & Benefits Include:
Stainless Steel Drive Shaft/Indicator Shaft  and Stainless-Steel Hardware Standard

Adjustable Rotation Angle

Permanent Lubrication

Lower Air Consumption

Less weight

Easy Identifiable Position Indicator

Namur-Style Top-Works & Solenoid Mounting

1/8" NPT Inlet and Outlet Ports
Typical applications or installations include but are not limited to wastewater and water treatment, chemical feed, chemical transfer and processing, aquatic and animal life support systems, mining and mineral processing, pulp and paper, marine and other demanding environments.
About Hayward Flow Control        
Hayward Flow Control, a division of Hayward Industries, is a leading U.S. manufacturer of industrial thermoplastic valves, actuation and controls, instrumentation, filters, strainers, corrosion resistant pumps, bulkhead fittings and tank accessories and for use in water and wastewater treatment, chemical processing & transfer, chemical feed, aquatic/animal life support systems, mining, and other industrial processing systems. Hayward's thermoplastic flow control products can accommodate aggressive and corrosive environments, delicate ecosystems, or the strictest chemical balances to keep water and life working together. Hayward Flow Control is an ISO 9001:2015 Certified manufacturer.
For more information, contact Hayward Flow Control at 1.888.429.4635 or by e-mail at hfcsales@hayward.com.   Visit us also at  haywardflowcontrol.com.