New Cooler Case Cleaner Reduces Energy Consumption
Press Release Summary: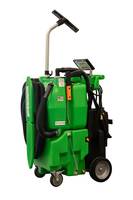 Cleaner is fast, effective, simple to use and improves lifespan of the unit
Sprayed over coils, surfaces and shelving
Removes moisture, soil and debris all in half the time of conventional cleaning methods
---
Original Press Release:
Keeps Refrigeration Equipment Running Cold
A major reason for grocery store refrigeration equipment failure is dirty condenser coils. Soiled coils increase energy consumption, produce heat that can damage components, eventually causing system failure.
Prevent this with Kaivac's new Cooler Case Cleaner. The system is fast, effective, easy to use, reduces energy consumption, and enhances the lifespan of the unit.
Using the system's 5-foot spray hose, cleaning solution is gently sprayed over coils, surfaces, and shelving. A built-in vacuum removes moisture, soil, and debris, all in half the time of conventional cleaning methods.
For more information, contact Kaivac Global Head Quarters at www.kaivac.com, email info@kaivac.com, or call 513-887-4600.
For more information in Europe, Middle East and Africa, visit www.kaivac-emea.com, email office@kaivac-emea.com, or call +43 6216 4524 15
About Kaivac, Inc.
Kaivac is the developer of the No-Touch Cleaning® and OmniFlex™ Crossover Cleaning systems. Headquartered in Hamilton, Ohio, Kaivac, Inc. delivers complete science-based cleaning systems designed to produce healthy results and outcomes while raising the value of cleaning operations and the professionalism of the worker. Kaivac offers an integrated portfolio of environmentally friendly cleaning products designed to remove the maximum amount of soil and potentially harmful biopollutants in the most cost-effective manner possible.
More from Cleaning Products & Equipment