Material Handling and Storage Bags
New ControliQ ThermaLast Bags are Suitable for Cold Chain Package Shipments
Press Release Summary: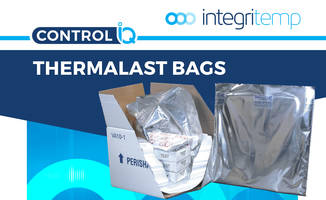 ControliQ ThermaLast Bags when used with EPS foam containers in packaging system increases the protection percentage. The usage of ThermaLast bags to foam shipping container with dry ice, gel ice packs or ice bricks improves the performance without affecting payload area or dimensional weights. Units can be used in seasonal shipping during warm periods.
---
Original Press Release:
IntegriTemp introduces the ControliQ ThermaLast Bag
IntegriTemp announces ThermaLast Bags to the Thomasnet community to aid in extending cold chain package shipments
Omaha, NE – IntegriTemp announces the ControliQ ThermaLast Bag. The ThermaLast bag is part of the ControliQ packaging system designed by IntegriTemp to offer what all temperature sensitive product shippers strive for …. more protection and less cost. When ThermaLast Bags are used in conjunction with IntegriTemp EPS foam containers, it results in a packaging system that offers an average of 25% more protection than EPS containers alone.
ThermaLast Bag testing has routinely shown extended safe transit times for perishables, ranging from 25% to 40% more protected hours. Adding a bag to an existing foam shipping container along with dry ice, gel ice packs or ice bricks often results in performance that mimics much thicker foam containers without decreasing the payload area nor increasing the dimensional weight. This can save cost by extending transit days, shrinking package size and/or reducing coolant requirements. ThermaLast Bags can be used year-round, or as a protocol for seasonal shipping conditions during warm periods.
Media Contact:
Tara Virgil
Greg Montgomery
Integritemp – Plastilite
800.228.9506
Related