New Concrete Floor Box System Comes with Leveling Ring
Press Release Summary: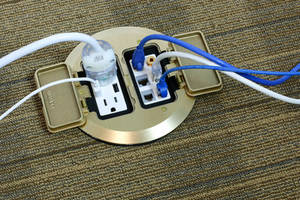 The Concrete Floor Box System with 6.25 in. diameter PVC box is designed to accommodate devices that provide connections to power, AV and data in commercial spaces. The system can be used within floors made of wood, tile, vinyl, terrazzo, carpet and concrete. The unit's leveling ring allows adjustment up to four degrees after installation. It can accommodate single, and duplex, standard, Decora receptacles and QuickPort® inserts for data, AV and networking needs.
---
Original Press Release:
Leviton Introduces Complete Floor Box System for Concrete Flooring
New concrete floor box system expands Leviton's current portfolio to create an ideal solution for all commercial spaces
MELVILLE, N.Y., Sept. 13, 2018 /PRNewswire/ -- Leviton announced today the launch of their newly designed concrete floor box system to accommodate devices that deliver connections to power, AV and data in commercial spaces. This holistic solution provides access to power connectivity and high-performance network infrastructures for any commercial setting. This system can be used within finished floors made of wood, tile, vinyl, terrazzo, carpet and concrete
"We saw an opportunity to expand our current floor box offering to fill the need in concrete flooring applications," said Tony Pulsonetti, Senior Manager of Commercial Products, Leviton Commercial & Industrial. "We identified deficiencies with products currently available in the market, such as weak seals in protective covers, cover plate breakage and device compatibility issues, and addressed them with our new, high-performing design. This is another example of how Leviton is making incremental improvements in commercial construction happen with better engineered solutions for our customers."
The brand-new offering includes:
Box system with 6.25" diameter PVC box and accessories
Leveling ring for unique environment adjustments
Forged brass cover plates available in a variety of configurations with clear coat or nickel-plated
This concrete floor box system is designed for easy installation and adjustment, superior performance and maximum compatibility. Stand out features include a leveling ring for adjustment up to four degrees after installation and accommodation for all single and duplex, standard and Decora receptacles as well as QuickPort® inserts for data, AV and networking needs.
From initial installation to ongoing use and maintenance, Leviton's concrete floor box system is the ideal solution for environments like office buildings, conference centers, schools, retail locations and health care facilities.
For additional info on the concrete floor box system and other floor box solutions from Leviton, visit www.leviton.com/floorboxes.
About Leviton Commercial and Industrial
Leviton's comprehensive line of commercial and industrial-grade electrical wiring devices provide builders, contractors and specifiers with solutions engineered to withstand the most rigorous commercial environments and harshest industrial applications. Leviton manufacturers everything from commercial, industrial and hospital grade wiring devices, to surge protective devices, electric vehicle supply equipment, temporary power solutions, heavy duty motor starter switches, IEC and NEMA watertight rated devices and more. Learn more at www.leviton.com/commercial. 
About Leviton
Every day, Leviton is engineering possibilities that make the future happen, meeting the needs of today's residential, commercial, and industrial customers globally. From electrical, to lighting, to data networks, and energy management, Leviton develops thoughtful solutions that help make its customers' lives easier, safer, more efficient and more productive. Driven by its commitment to its customers, the ingenuity of its employees and the safety and quality of its products and solutions, with Leviton, the FUTURE IS ON. For more information, visit http://www.leviton.com/, www.facebook.com/leviton, www.twitter.com/leviton, or www.youtube.com/Levitonmfg.
CONTACT: Amanda Cillo, 202-530-4566, Amanda.Cillo@bm.com
Web Site: http://www.leviton.com/