New Color Chip by Amerlux Accentuates the Natural Color of Fresh Food
Press Release Summary: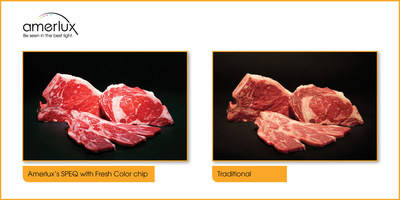 Amerlux has introduced a new color chip for grocery store track lighting that will highlight the natural color of fresh foods. The chip is intended for premium track lights and will help draw more customers. This new chip addresses the need for high-contrast lighting and accent lights improving the chances of customer purchasing a product due to color. Amerlux's innovative LED product also projects more light and emits less heat, keeping food products fresh longer. Amerlux's SPEQ incorporates the color chip, producing a controlled and powerful beam of light used in high-end boutiques and galleries. As supermarkets adjust to decreasing brick-and-mortar customers, new lighting will assist in their transition into higher-end retail boutiques markets. 
---
Original Press Release:
Amerlux's New Fresh Color Chip Makes Grocery Shoppers Salivate
Mouth-Watering, Natural Color Drives Supermarket Sales of Perishables
OAKLAND, N.J., Sept. 25, 2018 /PRNewswire/ -- Amerlux, an award-winning design-and-manufacture lighting company, announced today it has added a next-level microchip to its premium track lights that inevitably will help grocers transform into high-end retail boutiques.
Amerlux's Fresh Color chip accentuates the natural color of fresh foods, which has become a crucial high-margin draw to keep consumers shopping in the store. To accommodate the changing tastes of shoppers, accent lighting needs to be leveraged as a wayfinding tool, directing consumers to high-margin products, like meat, seafood, produce and flowers. Eighty-five percent of shoppers say color accounts for more than half of the factors they consider in purchasing a product, according to the Pantone Color Institute.
"Our new supermarket solution directly addresses the evolving industry, where grocers want high-contrast lighting coupled with accent lights," said Amerlux CEO and President Chuck Campagna. "Supermarkets are transforming into high-end retailers, which calls for bold, full-color lighting in select parts of the store to quickly direct the consumer's eye. Our innovative LED product projects more light and emits less heat than traditional lighting to help keep everything fresh longer."
Regarding its once-lofty role as American's "primary food destination", supermarkets have suffered a recent nosedive, dropping to 50 percent from 67 percent in 2005, according to the Food Marketing Institute's U.S. Grocery Shopper Trends 2018 Report. Thanks to technology and new savvy marketplace entrants, supermarkets are projected to shrink by as much as 40 percent as the "middle of the store", stocked with razor-thin-margin dry goods, moves online.
According to a recent Consumer Report from Nielsen, fresh perishable categories are driving nearly 49 percent of all dollar growth across the "fast-moving consumer goods" brick-and-mortar landscape in the United States, totaling $177 billion last year.
SPEQ Shines Spotlight on 'Fresh', 'Ripe', 'Leafy'
Amerlux's SPEQ, which is a line of modern-styled track lighting solutions, incorporates the Fresh Color chip, producing a controlled, powerful and clean beam of light, which can be found in various high-end retailers and art galleries. (When the Queens Museum, for example, wanted to create a memorable experience for its recent "Never Built New York" exhibit, Amerlux exceeded expectations with SPEQ.)
The SPEQ track head balances clean, minimal aesthetic design with industry-leading optical performance.
SPEQ's beam spreads range from a very narrow spot of 8 degrees to wide flood narrow spot to wide flood and everything in between. Delivering more than 46,800 CBCP, the SPEQ family of track accents aren't afraid of heights. Available with a snoot that perfectly matches the fixture to provide excellent glare control, SPEQ maintains clean fixture lines.
Its snoot perfectly matches the fixture to provide excellent glare control, while maintaining clean fixture lines. The product offers other options, such as hexcell louver, Solite beam softening lens, linear spread lens and cross blade.
The fixture keeps its classic design with an integral driver, which is not visible, featuring low-level dimming and full 2.5 kV surge protection to ensure high-quality performance, unlike lamp drivers.
In addition, three distinctive cylindrical-shaped models are available: the 48-watt large version, typically used in higher mounting applications delivering up to 3,977 lumens with a center beam candlepower (CBCP) of 46,856; the medium size operates with 26 watts, while delivering up to 2,056 lumens with a CBCP of 14,898 and the small size operates with 15 watts, delivering up to 1,310 lumens with a CBCP of 9,393.
Correlated color temperatures (CCTs) include 2200K, 2700K, 3000K, 3500K and 4000K.
Amerlux's History Rooted in Supermarket, Retail Lighting
As supermarket transition to retail boutiques, Amerlux has a competitive advantage because its brand has been built through the years around grocer and retail lighting.
Ever since Amerlux launched its first line of products in the 1980s—signature ED-17 metal halide lamps housed in custom track heads for use in the perimeter aisles of supermarkets—the company has demonstrated a passion for walking in its customers' shoes and developing solutions to address their specific needs.  In the case of the specialized supermarket track light, Amerlux designed a replacement to the PAR 30 and PAR 38 halogen lamps, which dominated the grocery segment at the time. Amerlux's solution was long-lasting affordable, offered 3000K halogen-like color, and didn't project heat, so it didn't dry out ice or produce, which was critical to managers in produce aisles or other refrigerated areas of the store.
Amerlux further expanded beyond the grocery segment through the 1990s, bringing its solution-oriented approach to the high-end retail arena.  Determined to solve the color and heat issues retailers and lighting designers were experiencing with then-dominant halogen MR-16 technology, Amerlux worked with the industry's top lamp manufacturers to deliver the best products using high-quality ceramic metal halide, which offered great color, improved beam projection, and no heat. Presenting its solution to architects and lighting designers, the company quickly secured business from a broad range of large, well-known retailers nationwide, which it accomplished by listening to the market rather than developing the product first.
For more information about the company's Amerlux's SPEQ solution with the Fresh Color chip, visit Amerlux.com or call 973.850.4342.
About Amerlux
Amerlux creates bold lighting solutions that add warmth and brilliance to the world. The design-and-manufacture company builds long-term relationships with architects, facility managers and lighting designers by taking every complex problem personally. Its award-winning portfolio includes innovative interior and exterior lighting products that deliver striking aesthetics and rich performance through advanced engineering. For more information, please visit Amerlux.com or call 973.850.4342.
SOURCE Amerlux
More from Software