New CMX655D Voice Codec Provides Support for Digital MEMS Microphones
Press Release Summary: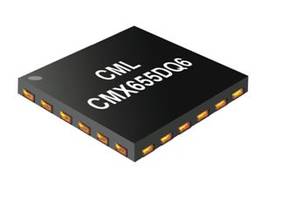 The CMX655D Voice Codec is integrated with two channel DSP and a filterless Class D amplifier and is offered in 4 x 4 mm QFN package. The product is suitable for applications such as intercom-based door entry units, security systems and smart home appliances. The device comes with two independent microphone channels that are operated in full duplex mode. It supports A-law and µ-law companding and the two parallel paths feature separate signal paths that share a common serial audio interface.
---
Original Press Release:
CML Introduces a New Generation of Ultra-Low Power Voice Codecs for High Quality 'Always On' Voice Applications
Maldon, Essex - 23 October 2018 - CML Microcircuits introduces the next generation in voice codecs, aimed at existing telephony and emerging high quality speech applications in smart devices. The CMX655D marks a significant evolution in voice codecs, which brings greater integration at ultra-low power to enable advanced features in a wide range of applications.
The CMX655D integrates two matched channels with Digital Signal Processing (DSP) along with a 1 Watt 90% efficient filterless Class D amplifier and support for digital MEMS microphones. These are functions that would have previously only been possible by adding additional components. In addition, the CMX655D design makes full use of advanced manufacturing processes, resulting in a device that requires very low power in all operating modes and is able to operate from a 1.8V to 3.6V supply as opposed to requiring 5V to achieve a 1 Watt output power. These features make it ideal for battery-powered devices.
"The pure voice codec has been underserved for many years, in terms of investment from the industry at large, because the majority of the focus has been on multimedia codecs for smart phones," explained David Brooke, Product Manager Wireless Voice and Data, CML Microcircuits. "This has left OEMs with no practical way of benefiting from the significant advancements that have been made in process technology, as well as MEMS microphone and speaker technology over the same timeframe. With the CMX655D we are redressing that, by bringing the voice codec into the smart generation."
The use of wired and wireless telephony is still increasing and voice codecs provide the crucial interface between a microphone and a speaker in any application that uses voice as an interface. While the smart phone industry has focused on multimedia codecs, the demand for higher quality voice outside this market is also increasing, as consumers become more accustomed to interfacing with advanced electronic devices using their voice. As well as the opportunity present for higher quality audio in telephony, the use of natural speech and audible feedback in devices such as home appliances and digital assistants is also on the rise, as manufacturers continue to make our lives 'smarter'.
To improve the user experience, manufacturers are increasingly turning to signal processing to apply digital filters to voice signals. This would normally require either a separate DSP or a high-end microcontroller (MCU). Now, thanks to the CMX655D's integrated DSP functionality, OEMs can remove the external DSP or specify a low-end MCU instead. The ultra-low power operation of the CMX655 requires around 500µA for all microphone path functions, as opposed to a few mA that an alternative codecs require. Delivering higher functionality at significantly lower system power is a major development for the industry. Its low power and high level of integration will enable manufacturers to add high quality voice to a wider range of applications, such as intercom-based door entry units and other security systems, smart home appliances and voice systems in the home, workplace and factory. It will also offer significant benefits to existing telephony applications.
The CMX655D features two independent microphone channels capable of operating in full duplex mode while maintaining relative signal phase, enabling one device to support two-way communication while simultaneously applying echo cancellation, for example. The voice filters offered by the DSP include 300Hz – 3.4kHz for classic telephony and 50Hz – 7kHz for High-Definition audio, while all signal paths supports audio bandwidths up to 21kHz at sample rates of 8, 16, 32 or 48k samples/s. As a traditional telephony codec, the CMX655D supports A-law and µ-law companding. The two parallel channels feature completely separate signal paths but share a common serial audio interface, which supports I2S (the Inter-IC Sound serial bus designed for digital audio devices) as well as I2C and SPI interfaces for device control.
Alongside its low power operation and high level of integration other features include programmable signal level detection, autonomous very low power voice detection, and noise gating. The speaker path has Dynamic Range Control ensures a constant volume at the output speaker even if the input varies. This can be a particularly useful feature in intercom or security systems.
The CMX655D is supported by a wide range of development tools including the EV6550D evaluation kit and is available now in a small 4x4mm QFN package.
About CML Microcircuits
CML Microcircuits is a world-leader in the design, development and supply of low-power analogue, digital and mixed-signal semiconductors for telecommunications systems globally.
The company's wide and varied portfolio means that CML devices are used in an extensive range of industrial and commercial products for licensed and unlicensed wireless voice and data systems.
Focusing on narrowband communications, CML's ICs are found in digital/analogue PMR/LMR, wireless data, satellite communications and marine radio applications, such as TETRA, DMR, dPMR, SCADA systems and Marine communications. The CML portfolio provides components supporting both RF and baseband functionality, encompassing both leading edge digital and legacy analogue systems.
In addition to our established range of devices, we are able to offer bespoke solutions to customers. This service includes design assistance, advice and first class technical support. Our FirmASIC® approach enables us to produce the optimum solution to a given design requirement. The outcome is a product offering that embraces a number of key technologies and delivers the result cost-effectively with fast time to market, ultimate flexibility and low risk.
CML Microcircuits is a member of the CML Microsystems Plc. Group of companies.
CML Microcircuits contact
Jessica Hickman
Marketing and Communications Officer
Email: jhickman@cmlmicro.com
Telephone: +44 (0)1621 875500
Press contact
Sarah Hatcher
Account Director, Media Relations & Client Services
Publitek
Email: sarah.hatcher@publitek.com
Telephone: +44 (0)1225 470000
More from Controls & Controllers