New CMD283C3 Ultra Low Noise Amplifier Offers an Output IP3 of +26dBm
Press Release Summary: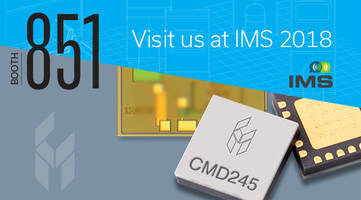 Custom MMIC's CMD283C3 Ultra Low Noise Amplifier is operated in 2 GHz to 6 GHz frequency range and features noise figure of 0.6 dB. GaAs MMIC digital attenuator family consists of CMD279, CMD280, CMD281 and CMD282 models. CMD279 and CMD280 provide an attenuation range of up to 15.5 dB and operate in up to 30 GHz. CMD281 and CMD282 provide DC-35 GHz and DC-40 GHz operating frequency range respectively.
---
Original Press Release:
Breakthrough GaAs and GaN MMICs Being Rolled out by Custom MMIC at IMS 2018
Chelmsford, MA – June 07, 2018 – Custom MMIC (www.custommmic.com), a leading developer of performance driven monolithic microwave integrated circuits (MMICs), is excited to be exhibiting in a new booth at the 2018 International Microwave Symposium (IMS) in Philadelphia, PA, June 12th through 14th. They'll be in Booth #851 and discussing exciting new GaN and GaAs MMIC technology breakthroughs.
Released here for the first time, Custom MMIC has broken the noise barrier in MMIC form with their industry-first Ultra Low Noise Amplifier (ULNA) MMIC. The CMD283C3 provides an incredible 0.6 dB noise figure, outperforming all other LNA MMICs, and rivalling discrete component implementations. It operates over a frequency range of 2 GHz to 6 GHz (S & C-band) and has output IP3 of +26 dBm.
Four members of a new GaAs MMIC digital attenuator family are also being introduced. The CMD279 and CMD280 operate up to 30 GHz with 5-bit control. Attenuation range is up to 15.5 dB. Two, 2-bit attenuators, the DC-35 GHz CMD281 and DC-40 GHz CMD282, offer coarser control in 2 and 4 dB steps respectively. All four devices offer input IP3 of +42 dBm.
Their latest Distributed Amplifier, the DC-20 GHz CMD249P5, offers a positive gain slope with nominal 12 dB gain. The GaAs device features output Psat of +30 dBm and output IP3 of +38 dBm.
Custom MMIC also continues to enhance their line of unique low phase noise amplifiers (LPNAs) as well. Responding to customer requests to assist in reducing unwanted phase noise and improve signal integrity and target acquisition in military radar systems, these LPNAs operate up to 40 GHz and offer low phase noise performance down to -165 dBc/Hz at 10 kHz offset. They serve as Local Oscillator (LO) drivers or receiver amplifiers in a variety of phased array radar, EW, military radio, instrumentation, and aerospace and space communication designs.
MMICs on the horizon from Custom MMIC include more ultra-low noise amplifiers and digital attenuators, as well as broadband distributed power amplifiers and GaN mixers. All these new MMICs are also being added to their "space-qualifiable" list.
Stop by and learn more from Custom MMIC at Booth #851.
To read up on these new MMIC devices visit https://www.custommmic.com/news/newproducts/
About Custom MMIC | www.custommmic.com
Custom MMIC is a leading manufacturer of performance driven monolithic microwave integrated circuits (MMICs). Embracing their customers' challenges, the company offers both a growing portfolio of high-performance MMIC standard products and innovative custom-design services. Their engineering team is highly experienced in a broad range of III-V processes (e.g. GaAs, GaN, InP, InGaP) and has longstanding relationships with the leading foundries. Custom MMIC specializes in RF through millimeter-wave products serving diverse markets including wireless and wired communications, satellite, radar systems, cellular infrastructure and instrumentation. The company was founded in 2006 and is based in Chelmsford, MA.
Company Contact:
John Greichen
Custom MMIC
jgreichen@custommmic.com
978-467-4290 
Agency Contact:
Leah Giunta
Strand Marketing
lgiunta@strandmarketing.com
978-463-0780
More from Computer Hardware & Peripherals