New Cloud-Based Tool from Alluvia Comes with Integration Between Saleforce and ERP System
Press Release Summary: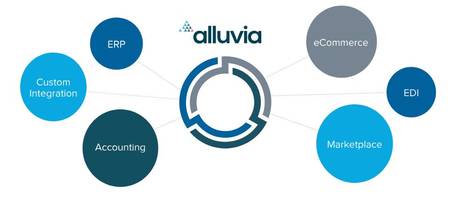 The Alluvia's Cloud-Based Tool with SAP Business one ERP and Salesforce CRM features mapping wizard with prebuilt templates. The templates automate integration setup and update without requiring consultants and custom code. This tool provides user to select the type of synchronizations needed based on their business. It comes with intuitive interface that makes integration simple to manage business internally.
---
Original Press Release:
Automated SAP Business One and Salesforce Integration from Alluvia
Alluvia, a revolutionary ecommerce integration platform, has announced their newest integration between the SAP Business One ERP system and the popular Salesforce Customer Relationship Management system.
CHESTER, N.Y. (PRWEB) DECEMBER 12, 2018 - Alluvia, the company that has revolutionized the integration between the popular SAP Business One ERP system and CRM, ecommerce, and other applications, has announced integration for the Salesforce Customer Relationship Management (CRM) system. A mapping wizard walks users through prebuilt templates that automates integration setup in minutes, and can be updated without requiring consultants and custom code.
SAP Business One is one of the most popular ERP systems for small and mid-sized businesses. Salesforce is a leading CRM system that delivers a powerful application that supports business growth. The data in these two systems needs to be synchronized for efficient business operations. Integrating these two systems eliminates manual data entry, provides real-time information, synchronizes data, and reduces the sales cycle length.
In the past, companies have been forced into lengthy consulting engagements to integrate SAP Business One and Salesforce. Automated integration from Alluvia is revolutionizing this process, removing the need for consultants and custom projects. The intuitive interface makes integration simple enough for businesses to manage internally. As your business grows, adding new synchronizations is a simple process that can be completed with just a few clicks.
The cloud-based tool from Alluvia makes automated SAP Business One integration with Salesforce possible for businesses of all sizes. Users select which synchronizations are needed based on their business, and pay a low monthly fee. Pricing packages include business transactions, items and inventory, and/or customers and accounts, for a fraction of the cost of any other integration solution. There are no contracts to sign. Users can cancel at any time.
About Alluvia 
Alluvia is changing the very nature of integration with a revolutionary tool that automates the integration process between SAP Business One and CRM systems such as Salesforce and Hubspot; ecommerce marketplaces such as Amazon and eBay; shopping cart systems such as Shopify and Magento; EDI files; and custom files. The company was founded and is run by SAP Business One system integrators who developed the application to simplify and automate integration.
Contact Information
Joel Kalish
Alluvia
+1 877.610.2052 Ext: 201
More from Construction Equipment and Supplies