New Class 4 Softswitch Solutions Automatically Adjusts Bandwidth According to Subscriber Type
Press Release Summary: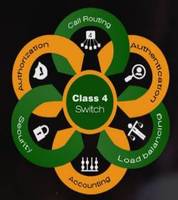 Ecosmob's Class 4 Softswitch Solutions comes with Intelligent call routing, LNP and MNP routing, fax routing, geographic, non-geographic and nomadic routing, load balancing and failovers options. The VoIP switches can be configured for competitive local exchanges (CLECs), Incumbent local exchange carriers (ILECS) and multitenant environments. Billing and reporting options are included in the softswitch that can be customizable for user to define own parameters such as rates and taxation structure.
---
Original Press Release:
Ecosmob Announce Custom Class 4 Softswitch Solution for Telecom Operators
The class 4 softswitch is the mainstay of international telecom operators. How it is configured and set up can make a difference to quality of experience and profitability. Ecosmob extreme customization delivers coherent, cogent solutions in class 4 softswitches for carriers.
Global leaders in VoIP technology Ecosmob announced customized class 4 softswitch solutions for telecom carriers and wholesale VoIP operators across the world. Speaking on the launch, the Company's VP said, "The VoIP industry is quite competitive and operators need customized VoIP softswitches that are aligned with their mode of business." Ecosmob excels in offering custom softswitch solution, especially its class 4 softswitch that is the backbone of most carriers' operations.
Ecosmob class 4 softswitches are state of the art, including features like Intelligent call routing, LNP and MNP routing, fax routing, geographic, non-geographic and nomadic routing, load balancing and failovers and integrated billing as well as reporting. Ecosmob can configure VoIP softswitch for competitive local exchanges (CLECs, Incumbent local exchange carriers (ILECS), multitenant environments and for carriers. Certain features may be enhances such as media codecs and protocol incorporation to allow for better interoperability. Language can be chosen to suit the operator's local language preference. White labeling is part of Ecosmob customization of class 4 softswitch solutions so that users can enjoy better brand presence. Billing is an important part of the softswitch and customization is possible in this section to let users define their own parameters for various customers including rates and taxation structure.
Apart from standard set of features inherent in class 4 softswitches it is also possible to incorporate other technologies common in unified communications, IVRs and PBX environments that service providers can offer as value added services. WebRTC has taken off in recent times and offering audio-video conference as well as chat facility does offer possibilities of value addition, said the VP.
A telcom operator may be operating in specific geographic locations and his operations could connect with exchanges that need specific technologies and interfaces. Ecosmob understands the situation and offers tailored implementations so that such carriers and service providers get a seamlessly integrated package. It is possible to include features that automatically adjust bandwidth according to subscriber type. "There are many different possibilities according to use case scenarios."
Customization, according to Ecosmob, is the only way telcom services can achieve better operational efficiencies, reduce cost and improve bottom line. Ecosmob is committed to providing valuable services that will help VOIP service providers remain profitable while offering best-in-class services to their customers.
VoIP service providers and Telcos interested in TensorFlow development may contact Ecosmob at 91 79 40054019, 1-303-997-3139, email sales@ecosmob.com or chat on www.ecosmob.com. 
More from Machinery & Machining Tools