New Circle Segment Cutters Available in Diameters of 6-16 mm
Press Release Summary: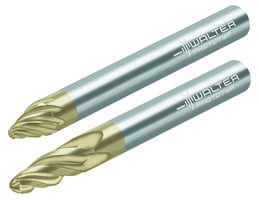 MD838 and MD839 offered with an effective radius of 250-1000 mm and 100 mm respectively
Features large radii in the cutting area and a high number of teeth
Ideal for final machining of components with steep walls and prismatic surfaces
---
Original Press Release:
Walter Offers Faster, More Productive, Cost-effective Finishing with its New Circle Segment Cutters
Solid carbide MD838 & MD839 Supreme Circle Segment Cutters perform finishing tasks up to 90% faster than traditional ball nose end mills.
Waukesha, WI—Walter has introduced two solid carbide circle segment milling cutters, the MD838 Supreme (conical) and the MD839 (tangential) Supreme. They offer cost effective finishing because they are up to 90% faster than finishing with ball nose end mills. This is primarily due to the new geometry of the milling cutters, featuring large radii in the cutting area and a higher number of teeth.
Higher productivity is gained not only due to the speed of these cutters, but also the greater number of teeth. Tough and reliable machining is obtained even with long overhangs to attain high component precision. Due to their specially developed geometries, both milling cutters are ideal for final machining of components with steep walls, deep cavities, prismatic surfaces and transition radii. The cutters are ideal in the energy industry, die and moldmaking, medical technology manufacturing, and aerospace, as well as general metalworking.
The Walter MD838 Supreme (conical version) has an effective radius of 250-1000 mm, a corner radius of 0.5 - 4.0 mm and is available in diameters of 6-16 mm. Walter also offers a version of this tool with ConeFit exchangeable head. The MD839 Supreme (tangential version) has an effective radius of 100 mm, a corner radius of 1-4 mm and in diameters of 6-16 mm. The two circle segment milling cutters are available both in the WJ30RD grade, for steel or cast iron materials, as well as in WJ30RA for ISO M and S.
The Supreme lineup of products is one of three categories to Walter tools. Supreme indicates the highest level of technology and performance available. Others in the Walter lineup include Perform tools that are products that provide an economical solution with focused importance on price and Advance which indicates product efficiently balanced between price and performance.
Walter, a global leader in the metalworking industry for over 100 years, offers a wide range of precision tools for milling, turning, drilling and threading applications. The company helps customers in the aviation and aerospace industries, automotive, energy, and general industry improve process reliability and increase productivity. As an innovative partner capable of creating digital process solutions for optimal efficiency, Walter is pioneering Industry 4.0 throughout the machining industry. With Regional Headquarters in Waukesha, WI, Walter markets its competence brands Walter, Walter Titex, Walter Prototyp and Walter Multiply through a network of channel partners and field engineers across the USA, Canada, Mexico and Brazil. www.walter-tools.com/us.
For Further Editorial Information Contact:
Kurt Ludeking
Director of Marketing
kurt.ludeking@walter-tools.com
More from Fluid & Gas Flow Equipment