New Chip Varistor Measures 1.0 x 0.5 x 0.5 mm in Size
Press Release Summary: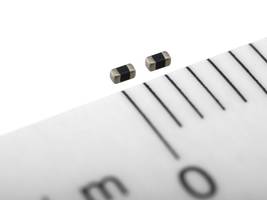 Operating temperature range from -55°C to +150°C
Reliable ESD protection up to 25 kV (IEC61000-4-2)
Supports maximum circuit voltage up to 70 V
---
Original Press Release:
TDK Offers Chip Varistor for Automotive Application Ethernet with Strong ESD Resistance
Compact, low capacitance and tight tolerance 
Reliable ESD protection up to 25 kV (IEC61000-4-2)
Compliant with OPEN Alliance 100BASE-T1 ESD Device Spec ver.2.0
High operating temperatures up to 150°C
March 22, 2022 -- TDK Corporation (TSE:6762) expands its product lineup with a new chip varistor, type AVRH10C101KT4R7YA8, for automotive application Ethernet with strong resistance to ESD. Mass production will begin in March 2022.
Utilizing high-precision multilayer technology and optimizing the manufacturing process and process design, the product implements a tight tolerance of 4.7 ± 0.57 pF in the capacitance range and strong resistance to voltage ESD up to 25 kV. Moreover, it delivers the performance required for ESD protection devices by OPEN Alliance 100BASE-T1 ESD Device Specification ver.2.0 and is compliant with this standard. It achieves the industry's smallest size of 1005 (1.0 x 0.5 x 0.5 mm) as a chip varistor for automobile, supports a maximum circuit voltage of up to 70 V, and has a high operating temperature range from -55°C to +150°C.
As ADAS (advanced driver-assistance systems) and even more advanced autonomous driving systems require high-speed and low-delay telecommunication between ECUs, Ethernet for automotive applications is used as telecommunications infrastructure. This product provides ESD protection to automotive equipment without interfering with high-speed communication between ECUs. In addition to support for high-speed communications required for future automotive equipment, the new product offers higher reliability by achieving strong ESD resistance.
Moving forward, TDK will continue providing customers with flexible support to design their diversified automotive equipment by expanding the product lineup through further downsizing, increased operating voltage, and expansion of capacitance range, etc.
Glossary
IEC61000-4-2: IEC61000-4-2: An immunity standard for electrostatic discharge established by the International Electrotechnical Commission (IEC)
ADAS: Advanced driver-assistance systems
ECU: Electronic Control Unit
ESD: Electrostatic discharge
Main applications
Ethernet for automotive application
Main features and benefits
Low capacitance and tight tolerance
ESD resistance of 25 kV
Small footprint saves space
Expansion of operating areas due to temperature range up to 150°C
Compliance with OPEN Alliance 100BASE-T1 ESD Device Specification ver.2.0
Key data
Type: AVRH10C101KT4R7YA8
Outer dimensions [mm]: 1.0 x 0.5 x 0.5
Maximum allowable circuit voltage [V]: 70
Capacitance [pF]: 4.7 ±0.57
Application: Ethernet 100BASE-T1
About TDK Corporation
TDK Corporation is a world leader in electronic solutions for the smart society based in Tokyo, Japan. Built on a foundation of material sciences mastery, TDK welcomes societal transformation by resolutely remaining at the forefront of technological evolution and deliberately "Attracting Tomorrow." It was established in 1935 to commercialize ferrite, a key material in electronic and magnetic products. TDK's comprehensive, innovation-driven portfolio features passive components such as ceramic, aluminum electrolytic and film capacitors, as well as magnetics, high-frequency, and piezo and protection devices. The product spectrum also includes sensors and sensor systems such as temperature and pressure, magnetic, and MEMS sensors. In addition, TDK provides power supplies and energy devices, magnetic heads and more. These products are marketed under the product brands TDK, EPCOS, InvenSense, Micronas, Tronics and TDK-Lambda. TDK focuses on demanding markets in automotive, industrial and consumer electronics, and information and communication technology. The company has a network of design and manufacturing locations and sales offices in Asia, Europe, and in North and South America. In fiscal 2021, TDK posted total sales of USD 13.3 billion and employed about 129,000 people worldwide.
Contacts For Regional Media:
Japan
Mr. Yoichi OSUGA
TDK Corporation
Tokyo, Japan
+813 6778-1055
pr@jp.tdk.com
ASEAN
Ms. Jiang MAN
Ms. Pei Lu LEE
TDK Singapore (Pte) Ltd.
Singapore
+65 6273 5022
asean.inquiry@sg.tdk.com
Greater China
Ms. Clover XU
TDK China Co., Ltd.
Shanghai, China
+86 21 61962307
pr@cn.tdk.com
Europe
Mr. Frank TRAMPNAU
TDK Management Services GmbH
Duesseldorf, Germany
+49 211 9077 127
frank.trampnau@tdk.com
America
Ms. Sara M. LAMBETH
TDK Corporation of America
Irving, TX, USA
+1-972-409-4519
sara.lambeth@us.tdk.com
Contact This Company Download Spec Sheet
More from Electrical Equipment & Systems